Blackmagic brings the beauty
counter to virtual viewers
A two-camera Blackmagic set-up with Canon lenses helped South African store
Edgars livestream presentations from the beauty counter by social media
influencers during Covid restrictions.
Although many people turned to online shopping during the pandemic to keep wardrobes updated, some items, like makeup and beauty products, still need to be seen in person to make the most appropriate purchase.
South African department store chain Edgars wanted to find a way to bring the personal touch that customers expect from its beauty counters into peoples living rooms. So the retailer worked with live production specialist Brother Media, in partnership with Matriarch and Avatar, to develop an in-store livestream.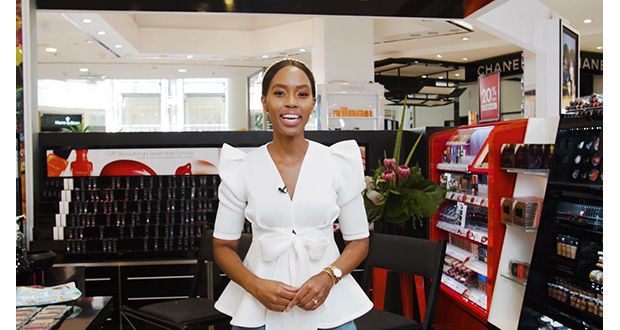 "We developed a collaboration with two South African beauty influencers, both of whom have great local followings. Both presented livestreams from the beauty counters at the Durban Edgars' store, showcasing the latest products and beauty trends," explained Simon Wilkes of Brother Media.
"Shop floor space was limited, so we settled on a two-camera setup using the Blackmagic Pocket Cinema Camera 4K, and they fed into an ATEM Mini Pro. As a result, the whole thing was highly capable yet compact," said Wilkes. "Given the subject of the videos, we needed not only high-quality image definition but also authentic colour, skin tone and pigment representation. We used 16-35mm and 70-200mm lenses from Canon, to make sure the audience watching online could see what the influencers were using and how the products looked after application."
Producing for social media also required the team to consider aspect ratios for the best delivery across the various channels. "As we had deliverables across both Facebook and Instagram Live, we also ran an additional laptop, working through Vmix to encode and reconfigure the NDI video feed over a portrait canvas into OBS," he continued. "We were also able to utilise the empty space of the 16:9 footage by running promotional graphics through the ATEM Mini Pro."
As well as creating interest and engagement online, the production itself also garnered attention at the store. "At the time we produced the content, in-store customers still couldn't touch or test products on their skin. However, we found that when the influencers were presenting to the camera, it really started to raise the customers' curiosity, so they were also finding out more about the products being presented," Wilkes said. "It was great to see that crossover between online and in-store experience."