WOKINGHAM, UK. – (April 25, 2017) – Christie® won the DSE 2017 APEX Gold Award in the Arts, Entertainment & Recreation category for its installation at the Star Wars®: The Force Awakens™ Red Carpet World Premiere. As the world watched one of the highest profile cinema events in years, Christie's Pandoras Box Media Servers powered a variety of displays including 388 Christie MicroTiles® that formed a backdrop to the red carpet walkway and 18 Christie LCD panels that graced the red carpet and photo locations throughout the premiere.
The Christie team provided technical consultation at every stage of the installation, from concept creation, to pre-staging, onsite setup and delivery. To make sure this specific live setup went well – and faced with an aggressive timeline – Christie pre-configured and staged much of the equipment in the company's Cypress, California headquarters days beforehand.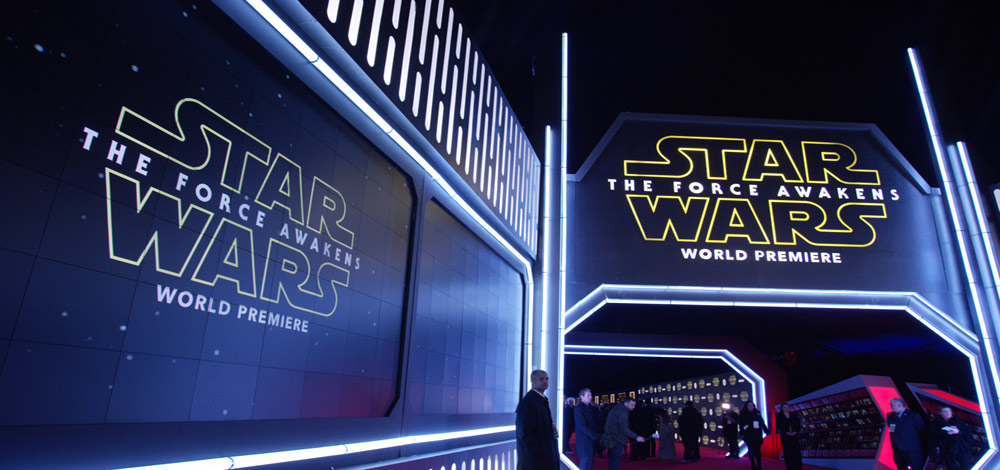 "Christie is proud to accept the DSE 2017 APEX Gold Award in the Arts, Entertainment & Recreation category for the installation at the Star Wars: The Force Awakens Red Carpet World Premiere featuring our projection technologies," said Sean James, vice president, Christie Global Professional Services. "This DSE 2017 APEX Award is a testament to Christie's commitment to customers around the world to create visually compelling experiences."
Christie MicroTiles were also used in another APEX winning entry – Forge Media & Design created two 12 foot tall towers in the heart of Toronto's financial district. The 14th Annual DSE APEX Awards were created to recognize and honor achievement in the installation of digital displays and interactive technology and the creation of compelling viewer content, the DSE APEX Awards have honored hundreds of companies for their innovation throughout the years.
This year's APEX Award finalists were chosen by an independent panel of 10 industry experts and journalists from a field of 138 entrants from 12 countries vying in nine major digital signage categories. The list of winning entries is available on the Digital Signage Expo 2017 site. Gold, Silver and Bronze awards were presented in each category as part of the APEX Awards Ceremony on Wednesday, March 29 at the Las Vegas Convention Center.