Crystal-clear audio conveys every syllable at Speak Jesus Windhoek
Angus Buchan prayer day event relies on d&b audiotechnik to deliver every word of worship
Windhoek, Namibia, June 2023 – Well-known Christian evangelist and author, Angus Buchan attracted huge crowds at the recent Speak Jesus prayer day at Windhoek's FNB Vegkop Stadium. The event, which was organised by Mighty Men Namibia, called for a professional audio system that would deliver crystal-clear audio to thousands of attendees, all of whom were eager to hear the words of worship and Christian teachings shared by Buchan.
Namibia-based event production experts, dB Audio was responsible for designing and integrating the audio system. "Our brief was to ensure that the messaging came through loud and clear to an audience of 4,000," explains Char-Ann Husselmann, Project Manager at dB Audio. "Providing a great overall audience experience was the overarching goal."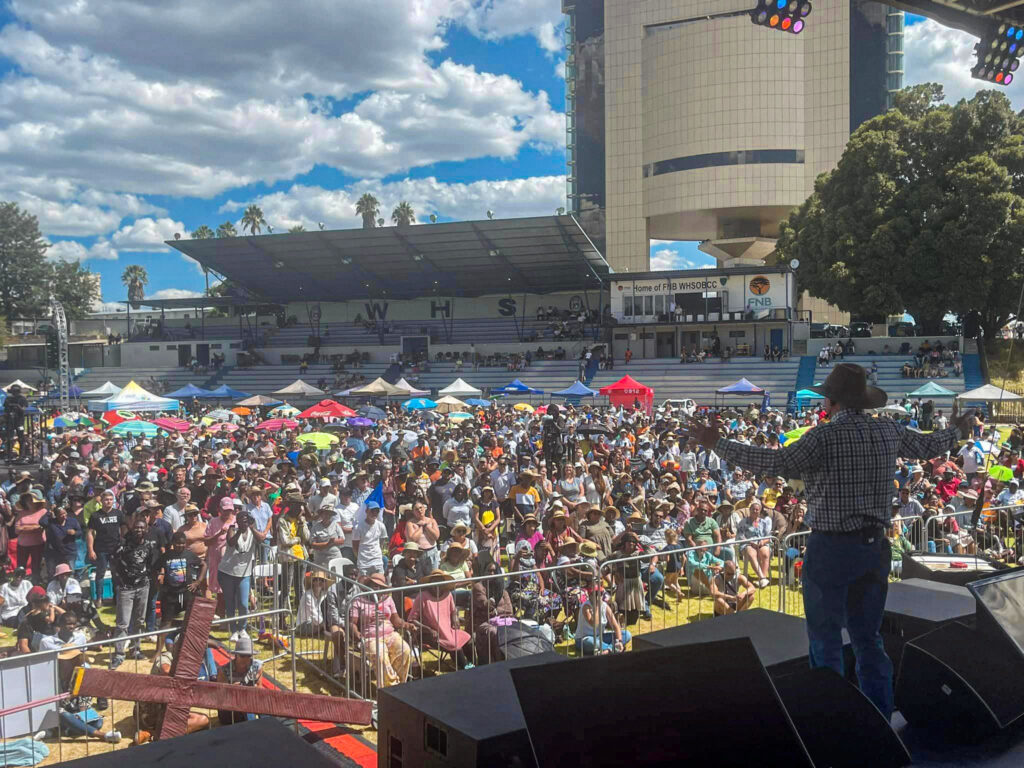 Considering the nature of the event, which focused mainly on spoken word alongside interludes of worship music, speech clarity was a priority. "We opted for a full d&b audiotechnik sound system, products that we can recommend due to positive past experiences," recalls Husselmann. Event Sound Engineer, Gerhardus Engelbrecht, shares this sentiment: "d&b is always the best system to work with. It's easy to design and implement, and best of all, a good-sounding PA system even before you start tuning it."
"Since it was a daytime event, we kept the lighting minimal and used only a few fixtures to provide a bit of eye candy for the worship component," explains Husslemann. "Therefore, the focus was truly on the quality of the audio."
The main system comprised L/R arrays of 16 d&b V8 loudspeakers in two hangs of eight, complemented by 12 d&b B2 subwoofers, also flown in an array. For even sound distribution, a delay PA system consisting of 12 d&b Q1 loudspeakers was implemented, along with four d&b Q10 front fills, placed to enhance speech projection at the front of the audience. The system was driven by six D80 amplifiers and four D12 amplifiers. For audio mixing, the event relied on Yamaha CL5 FOH and Yamaha M7 CL48 mixing consoles, allowing the sound engineers to make real-time adjustments, both at the event and for those watching remotely through the live stream, which was supplied via a full multi-camera solution. Finally, visuals were deployed across two outdoor digital displays on either side of the stage.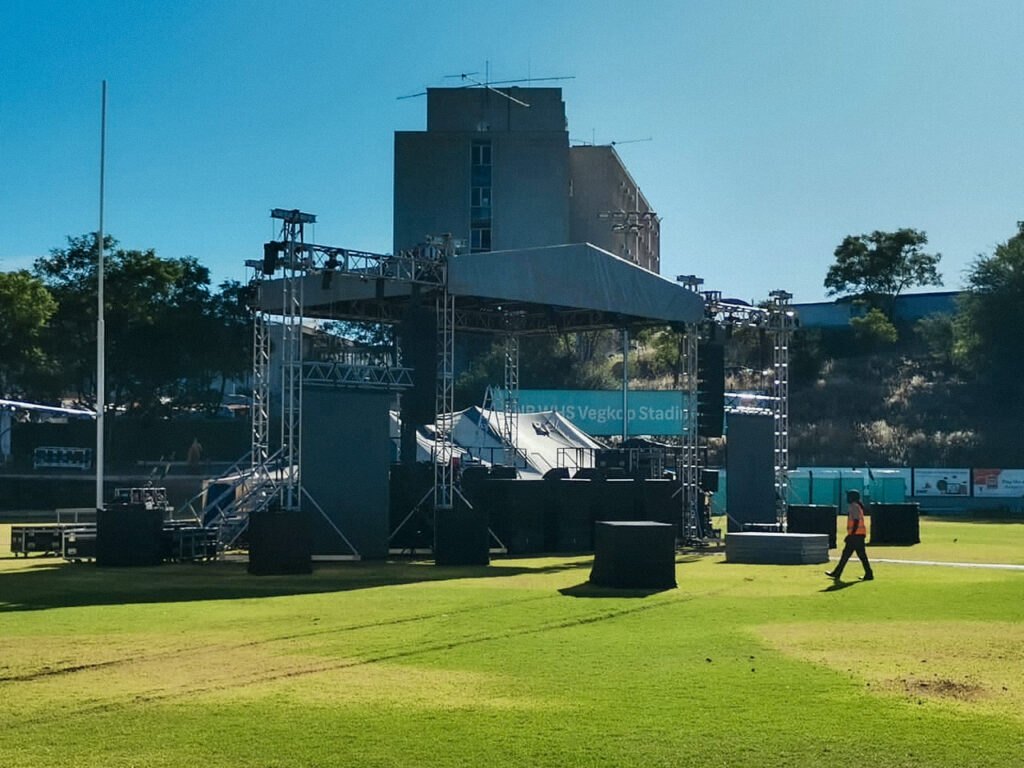 This extensive system was supported by Stage Audio Works' own brand Stage Plus Roof System. "The Stage Plus Roof System is a pleasure to work with as it is easy to assemble, and the internal ladder trusses provide useful, safe rigging points," explains Husslemann. "It's an imposing structure, and since it is fully certified, it makes compliance easy. We never have any issues for a qualified structural engineer to sign off on the system."
"Overall, the system produced outstanding results based on the array calculations. Everything ran smooth smoothly with no technical issues," recalls Husslemann. "Speech clarity was most important, and the d&b system succeeded in delivering intelligible audio to a huge audience, despite the challenges of an open space."
READY TO START
SOMETHING GREAT?
GET IN TOUCH
Johannesburg Office
T: +27 (0) 87 55 10 100
F: +27 (0) 11 568 4973
22 Kyalami Boulevard, Kyalami Park,
Midrand, 1684, South Africa
Namibia Office
T: +264 83 33 10 100
F: +264 83 33 10 114
Mindeco Park, 9 Faraday Street,
Southern Industrial, Windhoek, Namibia