Helium partners with Ampere to deliver immersive cinema audio for Silwerskerm Film Festival
d&b audiotechnik 5.1 surround sound system deployed at Camps Bay event

Event technical production specialists, Ampere, part of the Aeion Group, were contracted by Helium (Production Company ) to install a full d&b audiotechnik surround sound system for the Silwerskerm Film Festival, a celebration of Afrikaans filmmaking held annually in Camps Bay. This year's event took place in late August and was organised in collaboration with Helium, the Production company and event planner Charcoal Consultants.
Ampere was tasked with delivering an industry-compliant 5.1 cinema audio experience for an audience of around 420 attendees. Furthermore, a full x-cure audio Calibration had to be achieved in the venue, ensuring optimal audio quality and coverage for the entire audience.
The Technical supplier Ampere supplied a d&b audiotechnik sound system consisting of twelve V8 line array loudspeakers in a left/centre/right configuration over two J-subwoofers to provide low-frequency effects (LFE). Surround sound was achieved using six E12 point source loudspeakers. A combination of three D80 amplifiers and two D12 amplifiers powered the system.
"With this system we ensured an even coverage of surround sound, providing a true cinema-grade experience for every seat in the house," explains Antonio Baleiza, Group Operation Manager at Aeion Group. "d&b loudspeakers require minimal processing to deliver outstanding sound quality, are easy to manage on the network and are backed by precise array calculations prior to load-in."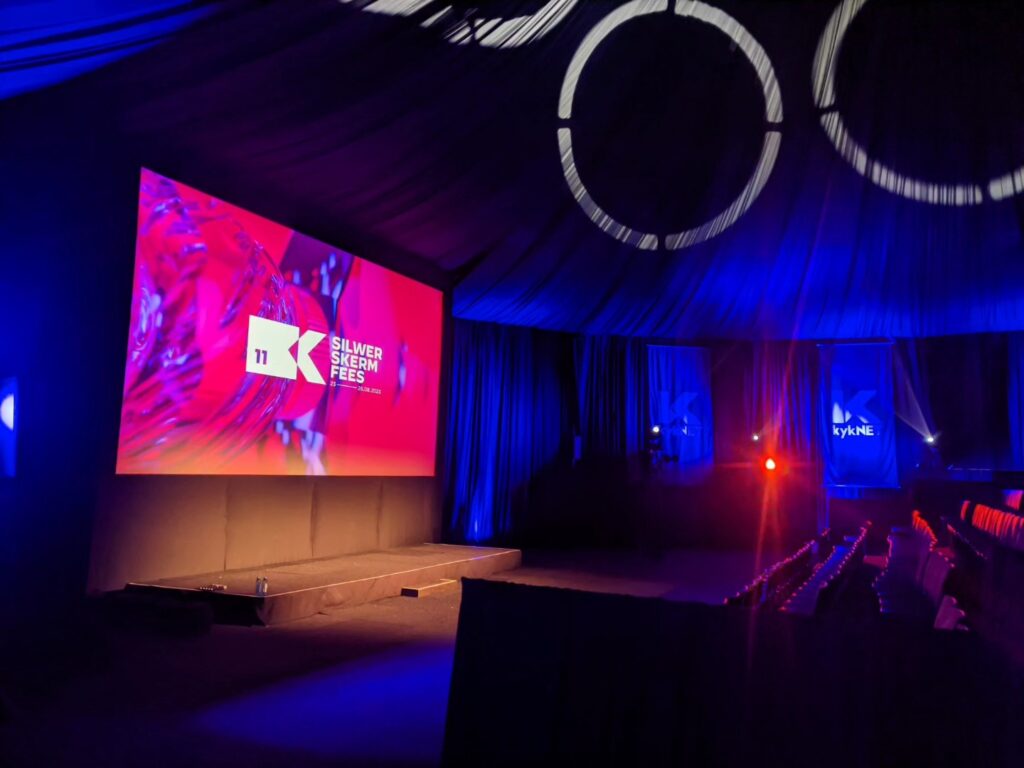 "ArrayCalc streamlined our pre-production work, whilst the use of R1 software to control all amplifiers, set relative delays and adjust gains, made tuning the system accurate and straightforward," continues Baleiza. "Fine adjustments could be made as needed without physical intervention."
The installation at Silwerskerm Film Festival came with its own unique challenges. The festival venue, characterised by its round shape and domed roof, posed resonance issues. Moreover, a large resonant cavity behind the loudspeakers caused reflections that obscured sound clarity. Attention was paid to minimising sound directed toward the dome, using both physical design and the DSP functions of the sound system. The tuning and calibration process also had to account for the anticipated impact of the audience on the building's acoustics, given the high reverberation time.
Through fine-tuning and careful calibration, Ampere were able to overcome these challenges, delivering a surround sound system to complement the magic on screen. "The audience enjoyed a truly immersive viewing experience thanks to the d&b system and particularly the integration of the J-Subs for low-frequency effects," says Baleiza. "We're pleased to have received great feedback from both attendees and the filmmakers themselves on the audio quality."
READY TO START
SOMETHING GREAT?
GET IN TOUCH
Johannesburg Office
T: +27 (0) 87 55 10 100
F: +27 (0) 11 568 4973
22 Kyalami Boulevard, Kyalami Park,
Midrand, 1684, South Africa
Namibia Office
T: +264 83 33 10 100
F: +264 83 33 10 114
Mindeco Park, 9 Faraday Street,
Southern Industrial, Windhoek, Namibia