Cruises are currently extremely popular – just in Germany a new record was broken with 2.02 million passengers in 2016, representing a growth of 11.3 per cent compared to the previous year. This makes Germany the second largest market after the USA with around 11.03 million passengers, closely followed by the United Kingdom. The sector is enjoying rapid growth –today cruises are equally popular among holidaymakers of all age groups. In order to provide unique experiences, cruise companies see a need in using latest AV-Technology – in the entertainment areas and elsewhere in order to compete with what customers know from home.
TUI Cruises has been established on the German market for modern ocean cruises for many years with its Mein Schiff brand. The "feel-good fleet" offers its guests premium service with a unique all-inclusive concept in an atmosphere characterised by modern design, convenience and state-of-the-art technical equipment.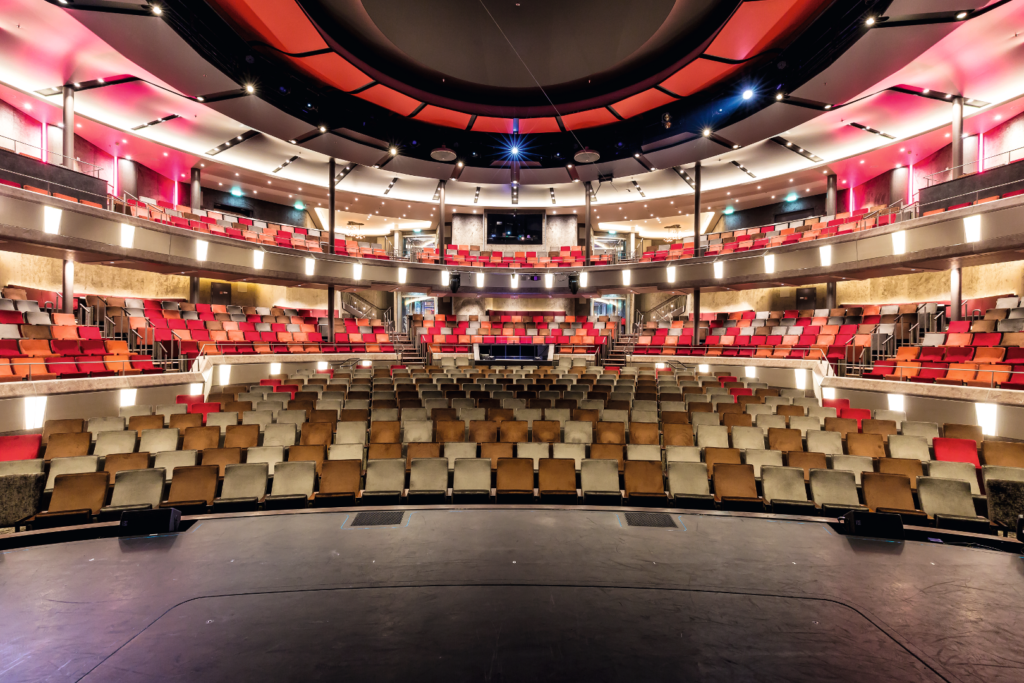 On-board entertainment plays a key role here. "Our guests expect a high-quality entertainment programme that can compete with the standards they are used to in their day-to-day lives, in both an artistic and a technical sense," comments Jochen Schelper, Project Manager Entertainment at TUI Cruises. He believes that high-definition images are a standard today: "Nearly everyone now watches television in HD quality. So 4K is a must for video projections on large screens for the show programme." Three Christie® Boxer 4K30 3DLP® projectors featuring native 4K resolution are currently in use on board the latest ship, Mein Schiff 6, in combination with Christie Pandoras Box for content delivery and management.
To guarantee the high quality of the entertainment programme on board the liner, a team of creative minds based at the TUI Cruises Entertainment location in Berlin are developing a mix of its own stage shows, concerts, comedy programmes, readings and lectures. Furthermore, on every cruise, passengers can experience a "naming show", a dedicated stage show specially conceived for a certain ship and elaborately pre-produced in Berlin. The evening show "Wellenreiter" ("Rider of the Waves") featuring dancing, singing and other performing arts premièred on Mein Schiff 6, which accommodates more than 2,500 passengers.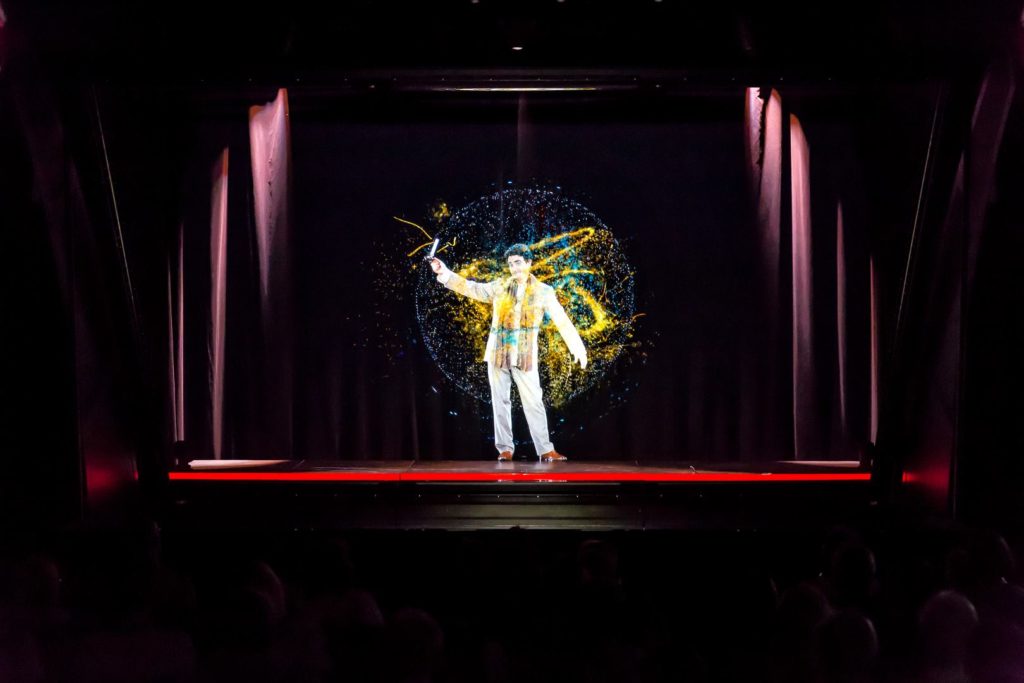 The entertainment programme is staged at three locations. Each of these locations has its individual prerequisites and its own technical set-up that is precisely matched to the content to be played and the spatial conditions."On board we have the large theatre, which seats around 1,000 people and is the venue of the naming show and our evening entertainment programme. Then there is the "studio", our small theatre for the daily hologram show and presentations, as well as the pool deck, where a large light show with music is held once on every cruise," explains Schelper.
For the naming show in the large theatre and the light spectacle with projection show at the pool deck, the technical specifications for the projection technology on board were drawn up together with light designer Chris Moylan from Optikalusion Berlin, who also conceived the shows.​
"The Christie Boxer 4K30 was the only unit to meet all requirements, especially when it came to the high light output and native 4K resolution, which is why we use the projector at all three locations," comments Schelper. He also explains that the redundant lamp assembly guarantees interruption-free operation. "It is difficult to procure spare parts on the high seas, but when using six lamps the show can be staged through to the end even if one lamp fails."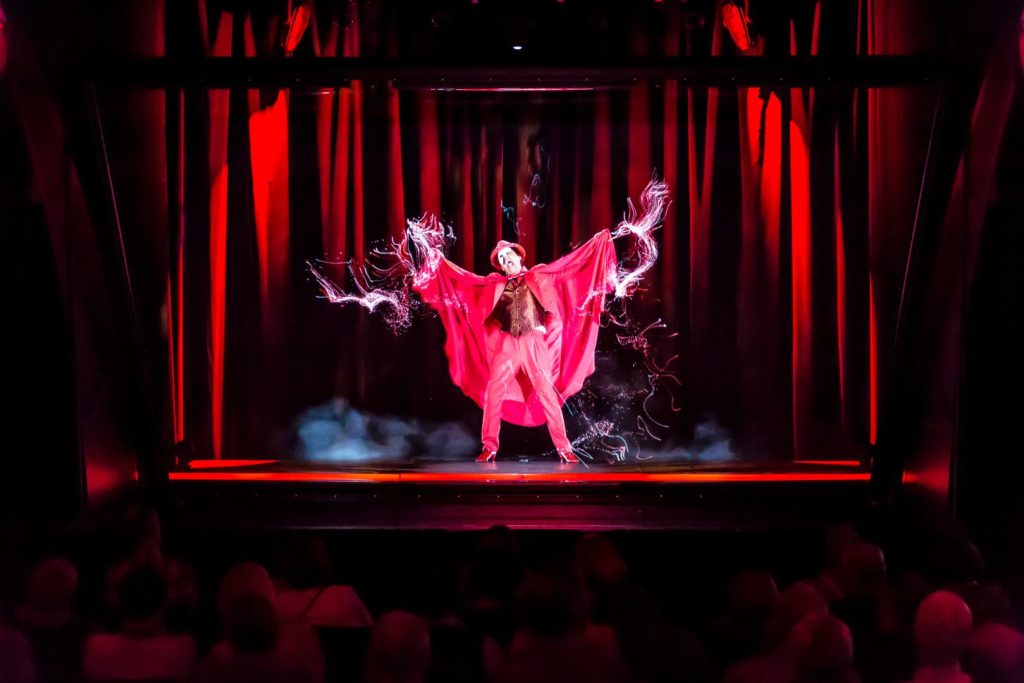 But alongside projection power and reliability, great demands are also placed on the projectors when it comes to robustness, challenging operating conditions and limited installation options. "Because we are on a ship, there are constantly larger or smaller vibrations from the engines and waves. So we use shock absorbers, and in the studio even suspension mechanisms, to cushion these vibrations," says Torsten Hirche, Technical Director at TUI Cruises. Andreas Köhler from systems integrator and Christie partner Wärtsilä FUNA International adds: "The vibrations on board are certainly a big challenge. So far, the lens of the Christie Boxer 4K30 copes with these the best."
The spatial conditions on board are by their nature limited. A Pepper's ghost illusion with mirror images is used for the hologram show in the studio. For this trick, a special holographic effect is created using a projection film and special lighting in front of and behind the stage, allowing objects or people to appear and disappear. According to Hirche, this was the biggest challenge from a technical point of view: "You are projecting from a very small distance." Therefore, due to the spatial circumstances the projector has to run at an angle of 45° from the ceiling. "A native 4K resolution is essential with such a small projection distance."
The large theatre on Deck 4 is the focal point of the evening entertainment. It features a cinema-sized projection screen using a Christie Boxer 4K30 installed above the gallery in the so-called catwalk. Content is managed and delivered using Christie Pandoras Box Media Managers with two servers as a back-up and for show control.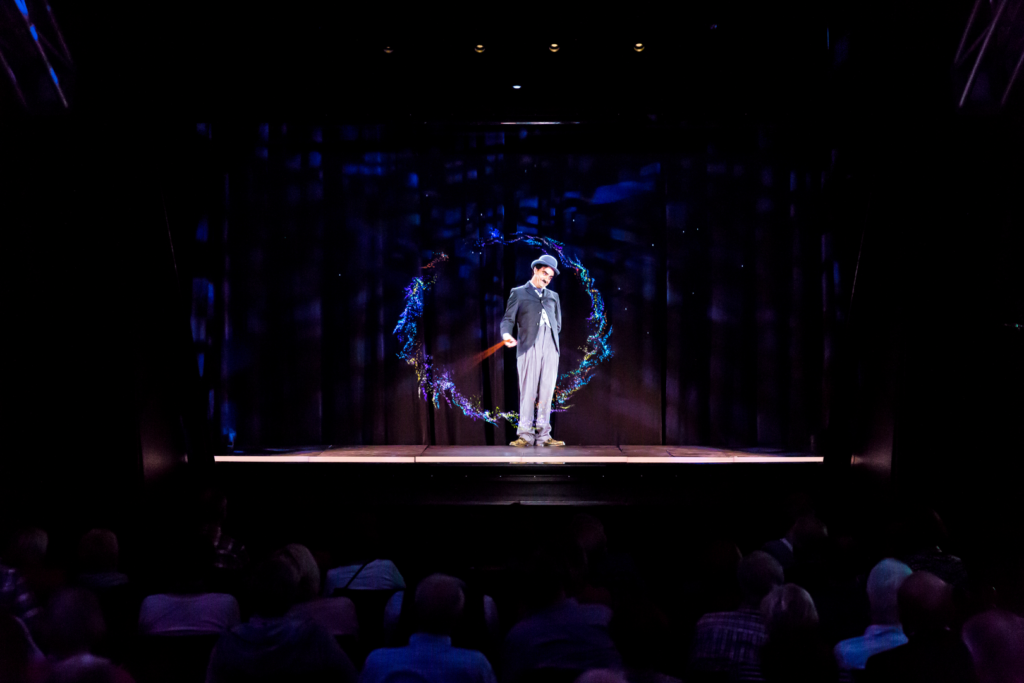 An additional Boxer 4K30 is used in the outdoor area where it must be able to withstand extreme temperature fluctuations. "On the pool deck we have installed the projector in a Tempest housing, which has a climate function and is built to handle the enormous temperature variations on our various routes, from the Arctic Circle all the way to the Caribbean," explains Hirche.
All video and presentation content is played using the Pandoras Box Player, which allows it to be displayed in a native 4K resolution. In addition, a Christie Roadster HD14K-M is used in the small studio theatre for presentations and as a back-up. This is where passengers learn about the different destinations they are travelling to or where general or nautical topics are explained.
The Equipment has already proved itself on board. Hirche explains: "All in all, we were so thrilled with the result we got using the Boxer that we now want to retrofit the projector on other ships, too." Jochen Schelper adds: "With our technical requirements including a high resolution and native 4K configuration, the choice available on the market was relatively small. We have already tried many smaller projectors on older ships, but the Boxer has been the most impressive yet."
Andreas Köhler, who has been working on the technical installation of the cruise ships of TUI Cruises since Mein Schiff 3, continues: "The quality of the technical equipment is very high and is a step ahead of many ordinary stages found onshore." TUI Cruises and Wärtsilä FUNA International are continuing their collaboration for the next projects, the New Mein Schiff 1 and Mein Schiff 2. Köhler: "Planning and coordination with our colleagues at the shipyard in Finland are already in full swing."​
Photos: © TUI Cruises GmbH