Shizuoka, Japan. – Yamaha Corporation announces the February release of two new Dante equipped I/O Rack units for the Yamaha professional audio lineup: the Rio3224-D2 and Rio1608-D2. Together with the CSD-R7 control surface to be released simultaneously, these I/O Racks are components of the new RIVAGE PM7 Digital Mixing System. They can also be used with current CL and QL series digital mixing consoles.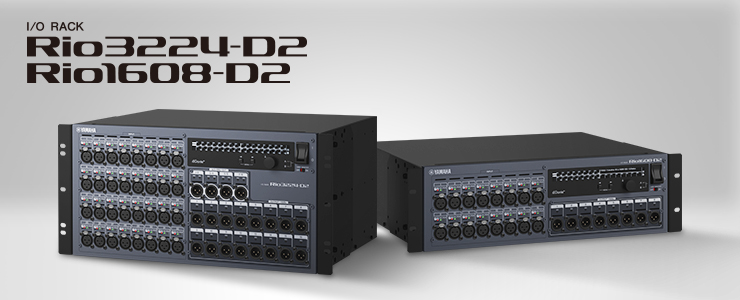 The Dante network audio protocol was first introduced to the R series I/O Racks in the Rio3224-D and Rio1608-D, released simultaneously with the CL series digital mixing consoles in 2012. The lineup was then expanded with the input-only Ri8-D, the output-only Ro8-D, the RMio64-D with Dante/MADI conversion capability, and the RSio64-D for connectivity between Dante and Yamaha's extensive Mini-YGDAI card lineup. The outstanding sonic quality offered by these products, plus the convenience and performance of Dante networking, have made them popular choices for a wide range of pro audio applications.The new Rio3224-D2 and Rio1608-D2 are successors to the Rio3224-D and Rio1608-D, offering significant advances in sound, reliability, and visual status confirmation. Yamaha's unwavering approach to live sound reinforcement is wholly inherited in the Rio3224-D2 and Rio1608-D2, allowing the on-stage sound to be cleanly captured and then shaped as required by the engineer. Analog circuitry developed for the first-generation Rio3224-D and Rio1608-D has been revised to deliver sound that represents another evolution in Yamaha's "natural sound" concept, and overall performance that is worthy of "RIVAGE PM series" status.
Both the Rio3224-D2 and Rio1608-D2 include dual power supply units to minimize the possibility of power loss during a show. If a problem occurs with one power source, operation will continue unaffected as long as the second power source is active. Internal airflow has been redesigned too, reducing fan noise for notably quieter operation.
Another Rio3224-D2 and Rio1608-D2 refinement is the inclusion of character/icon displays rather than the basic LED indicators of the first-generation models, allowing quick, easy confirmation of Dante settings as well as metering, gain, high-pass filters, phantom power, and more. It is also possible to edit gain, high-pass filters, and phantom power settings directly from the I/O Rack interface, and even lock them if required. Operation from the R Remote software application is also possible.
Yoshi Tsugawa, general manager of Yamaha's Pro Audio Division, comments: "The Rio3224-D2 and Rio1608-D2 can be used with all recent Yamaha consoles: the RIVAGE PM series, CL series, QL series, and TF series. A broad choice of mixing consoles and I/O racks, as well as possible combinations, provides enhanced flexibility and economy when configuring systems for applications of any scale."