Yamaha Nuage is a unique fusion of DAW software and hardware control that is rapidly gaining acceptance in a wide range of professional applications, from audio post production to music recording and production. Front-line producers and engineers rate Nuage highly as an important tool that can not only improve day-to-day efficiency and productivity, but also enhance output quality.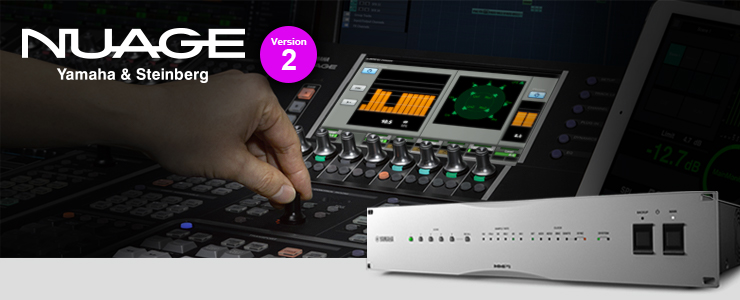 The Nuage Version 2 update reinforces the system's monitor and communication capabilities by providing tight integration with the Yamaha MMP1 Studio Monitor Management System.
While primarily focused on monitor control, the fact that the MMP1 also offers a comprehensive range of audio processing capabilities that are essential in the modern studio environment makes it exceptional. A 40 x 36 monitor matrix makes it easy to create custom monitor source and cue configurations, and a 32 x 32 speaker matrix with crossover filters on all channels affords unprecedented system flexibility. The MMP1 is an ideal monitoring, communication, and processing solution for audio formats from basic stereo to complex immersive surround.
The MMP1 can be used with just about any DAW and peripheral equipment, but Nuage Version 2 adds remote control capability so that source selection, levels, downmix and dimmer switching, talkback, and other functions can be controlled directly from physical controls on a Nuage Master or Nuage Fader unit. And because these functions can be accessed even when there is no computer or DAW online, monitor section operation is as direct and immediate as on a mixing console.
Nuage Version 2 is an innovative solution that delivers significantly enhanced DAW control and monitor processing for a broad range of applications.
* The Nuage Version 2 update is available free of charge from the Yamaha Pro Audio website.