Johannesburg Office
1 Midway Park, 61 Old Pretoria Road, Halfway House, Midrand
+27 (0) 87 55 10 100
Organized By
Stage Audio Works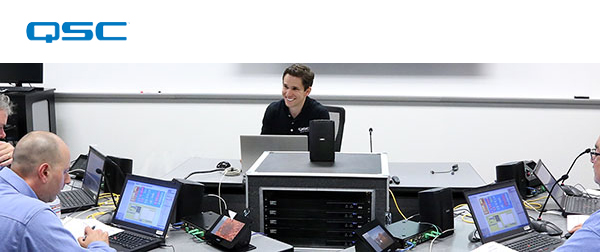 Two-day course taught by Q-SYS trainers
Prerequisite:
Completed QSC Q-Sys Level one training.One-on-one classroom instruction from advanced application engineers and trainers who specialize in a wide variety of installations.
Hands-on experience
Each student works on their own Q-SYS workstation with the latest Q-SYS hardware and software.
Advanced application-based curriculum
These topics are designed for integrators working with larger, more complex systems: from advanced teleconferencing scenarios to third party control, from Enterprise-Level streaming and management to networking troubleshooting, and much more.
Infocomm CTS Program Credits
Q-SYS Training – Level Two (Classroom) has been approved by Infocomm for 8.0 RU credits.
Details.
Date:05 & 06 July 2017
Time: 09:00am – 16:00pm
Venue: Stage Audio Works
Address:1 Midway Park, 61 Old Pretoria Road, Halfway House, Midrand