The Royal Albert Hall has completed the biggest improvement to sound in its auditorium since the installation of the iconic acoustic 'mushrooms' in 1969, 50 years ago.
Costing over £2 million, the project took 693 days of labour, using 15,291m of cable and 465 individual speakers for the world's largest loudspeaker install in a single room.
Planned and delivered by a multidisciplinary team during the Hall's busiest year ever, the project drew on the most detailed acoustic surveys and modeling ever undertaken in the Hall, innovative installation methods, and a wide pool of industry-leading expertise.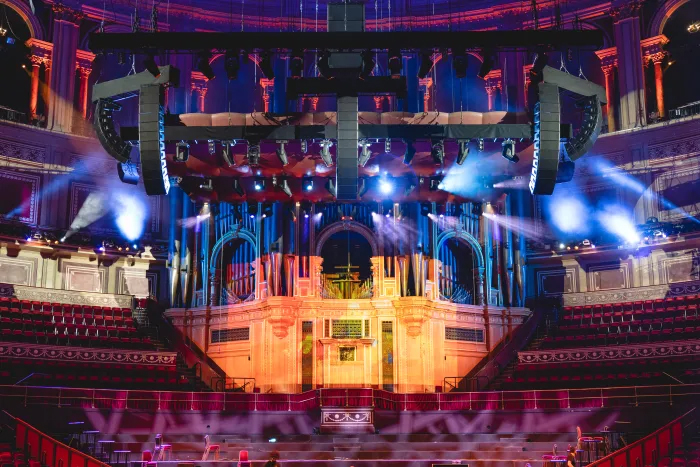 As a Grade I listed building, the intricate new sound system proposal required special building consent and had to work within the fabric of the famous Victorian venue.
None of the 327 shows that took place during the installation period were stopped or affected, thanks to an overnight engineering work schedule carried out by installation company SFL.
Craig Hassall, chief executive of the Royal Albert Hall said: "Kylie Minogue, Take That, Frank Sinatra… these are just some of the incredible artists who have played the Hall, and like them, the Hall constantly has to challenge perceptions and reinvent itself for modern audiences. This investment is about more than just updating the sound system, it's about future-proofing the building as we approach our 150th anniversary in 2021, so that it is fit for another 150 years."
In the last year alone, the Hall has hosted everyone from Nine Inch Nails to the London Symphony Orchestra, Clapton to Kasabian, Rudimental to Mary Poppins, boxing, ballet and everything in between. With such an eclectic variety of live entertainment, the issue of building a system to deliver for everyone was not without its challenges.
Steve Jones of d&b audiotechnik commented: "The Royal Albert Hall presents a sound system designer with some of the most unique geometry in the world – it was essential that the final audio system design delivered a significant improvement to the amplified sound in this venue. Using the latest 3D modeling and simulation techniques from leading acousticians Sandy Brown, we were able to pinpoint exactly how, where and what speakers we needed to install, maximizing the clarity, intelligibility, and musicality that the audience expect from a world-class venue. Audiences can now expect a level of audio quality and consistency across all seats which was never before been achievable."
The new system features the first-ever circle, gallery and box speakers, bringing the sound closer to all seats, radically improving levels, tone, and clarity for every seat in the house, meaning sound quality is now equal throughout the Hall.