Stage Audio Works delivers an extensive AVL upgrade to Every Nation Church
In collaboration with Church Production, Every Nation Church receives an audio-visual update to enhance their live shows and improve broadcasting flexibility.
Every Nation Church was founded more than twenty years ago, and has observed incredible growth during its lifespan, with 31 campuses across South Africa. The church has a strong spiritual core, coming together for regular services, as well as a healthy community life, with their motto being, "worship together; do life together; laugh together, and serve together." The largest campus, located in N1 City, Goodwood, in Cape Town, is the de facto headquarters of the congregation. At maximum capacity, Every Nation N1 can hold around 1000 congregants.
Recently the church commissioned a re-model of one of their existing halls. Church Production was awarded the tender and provided consultation and assistance during the project, selecting a turnkey solution from Stage Audio Works. As part of the collaboration, SAW offered support in installing and integrating the system. Every Nation Church required a comprehensive audio system combined with upgraded visuals to support their activities. SAW supplied and integrated an end-to-end audio-visual solution using their own brands, implementing a Plus Audio line array system as well as a Pixel Plus LED wall to better highlight the spectacle on stage. This was supplemented by a bespoke Stage Plus lighting solution and trussing from Total Fabrications.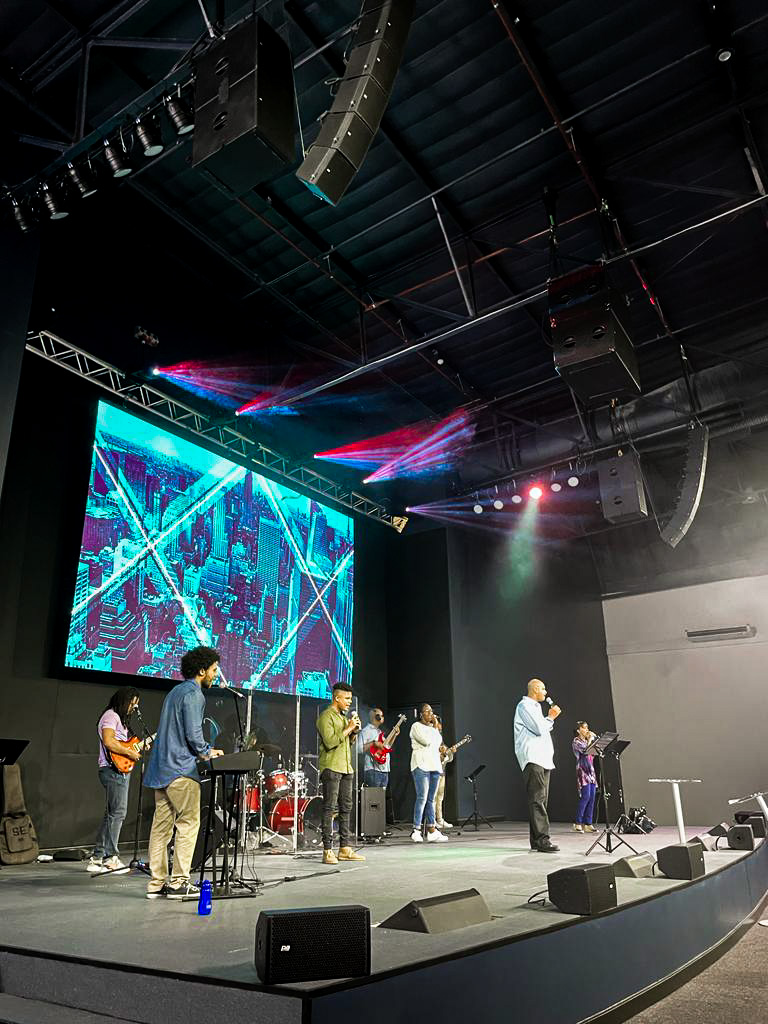 As ever, the audio was an extremely significant aspect of the install. "It was vital that the sound system delivered a spectrum of high-quality audio during Praise and Worship segments, as well as assuring clear and consistent reproduction within the vocal domain, for more typical services," explains Pastor Gilian Davids, Every Nation N1's Senior Pastor. He continues: "Speech intelligibility and seat-to-seat coverage were key factors. It is important that the experience is the same for all attendees."
Mark Gaffley agrees: "In a market which is flooded with products, it has become blatant that one cannot, and should not, invest in equipment merely based on price. Whilst the bottom line is always a factor, there are a number of other non-tangibles which need to be considered alongside it."
After discussion between Gaffley and Nathan Ihlenfeldt from SAW, it soon became clear that SAW had the perfect solution to handle the client's audio requirements, in the form of their Plus Audio offering. Gaffley expands on the details: "Nathan assisted in designing a line array system comprising eight 9-inch L109i speaker elements per side, along with two 15-inch L115Bi sub bass cabinets per hang. Two 21-inch L121B subs were flown in a centre array, and we added six 8-inch C8 loudspeaker cabinets as front fills. A combination of 12A amplifiers and D48 system processors provide audio processing and power the system." He continues: "One of the great advantages of this system is its power to weight/size ratio. Once the PA was fired up, it was astonishing to hear the massive sound emanating from a 9-inch cabinet – it completely filled the room!"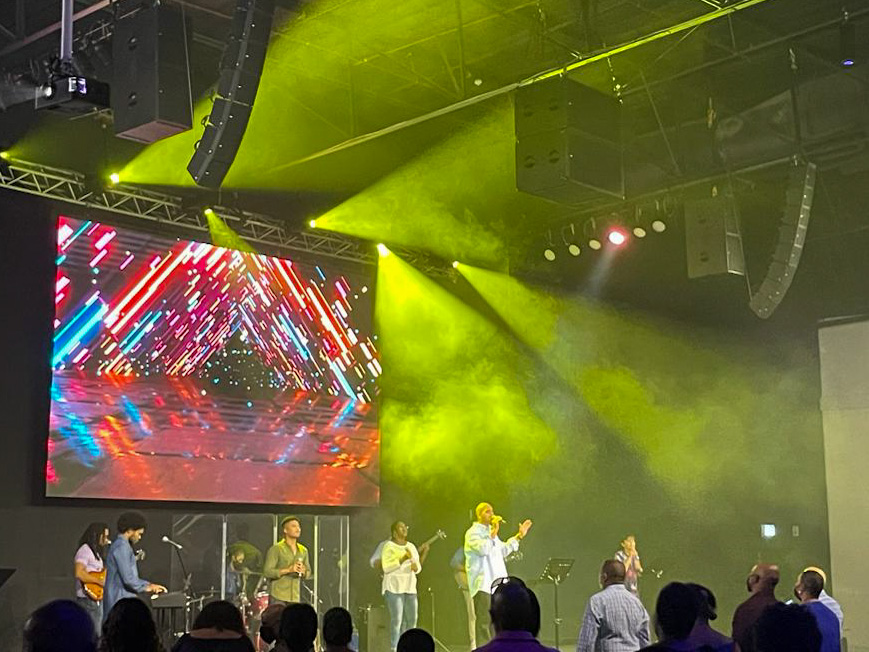 On the visual side of the installation, the lofty 9m high ceiling lent itself to the implementation of an LED centre screen. "We opted for the Pixel Plus indoor screen, with a 2.5mm pixel pitch," describes Gaffley. "Having installed a few of these in the past, we were extremely comfortable that the screen would more than deliver on the client's requirements. The Pixel Plus range of products are fit for purpose. They're reliable and robust, and most of all – are extremely well supported locally." Church Production supplied two Blackmagic 4k professional studio quality cameras, greatly enhancing Every Nation Church N1's streaming and broadcast capabilities.
The house/architectural lighting was also a vital component of the project. "The interior designer and church leadership sought to create a space with a friendly and comfortable atmosphere conducive to praise and worship, while providing adequate white lighting during the services," explains Gaffley. "We considered various options, including typical architectural fixtures and high-power LED Par Cans but eventually decided that SAW's own StagePlus LED solution was best suited for the job." The space was modelled with the assistance of Jared Dollery from SAW, who also provided a design utilising 28 x SP-HL-RGBW-L Large House Light fixtures, suspended 6m from the floor. Gaffley was delighted with the work: "The result was amazing – rich, warm colours, as well as cool or warm whites. The best part is, the system integrates seamlessly into the stage lighting system, which means that the church's lighting designer can create a beautiful atmosphere during services."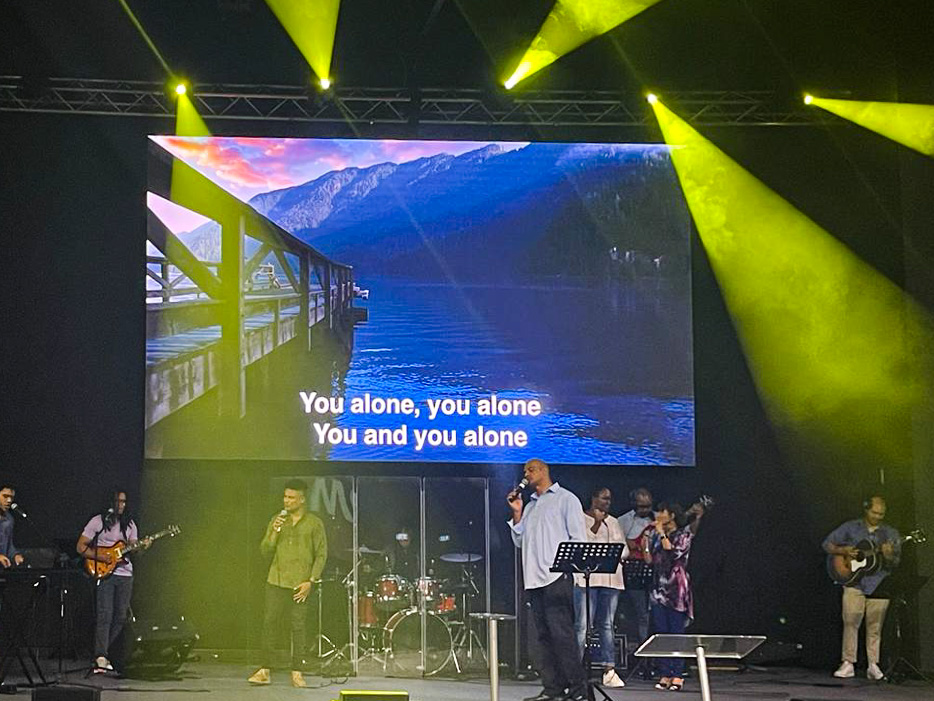 Gaffley is equally thrilled with the outcome of the project as a whole: "In all truth, we could not be happier with the result – a great system, checking all the boxes… performance, coverage, intelligibility, size, and all of that at a very competitive and reasonable price! Thanks goes to Nathan, Lee Thomson [SAW project manager] and Jared Dollery who provided drawings, system engineering, and installation oversight."
"Over the many years that we've worked with the team at Stage Audio Works, I must honestly say that we've seen the rewards of that partnership. We've had access to a great range of relevant products, enjoyed unquestionable support, and an overall sense of a 'painless' installation process," summarises Gaffley, on the back of another successful collaboration between SAW and Church Production.