Stage Audio Works integrates d&b into first international-standard arts venue in Mauritius
The Indian Ocean island nation of Mauritius is better known for its glorious beaches and lagoons than for culture and the arts, but since gaining independence in 1968, Mauritius has developed into a high-income diversified economy with growing industrial, financial and ICT sectors to underpin tourism. Development of the arts has been slower to take off due to lack of investment, but in 2018, all that changed – the cultural scene received a massive boost with the inauguration of the Caudan Arts Centre, part of the beautiful Le Caudan Waterfront development in the nation's capital of Port-Louis.
The Caudan Arts Centre (CAC) is quite simply a landmark arts and conference centre in the East African region. Designed by Arup UK with systems integration services from Stage Audio Works (SAW) in South Africa, CAC is the first truly international-standard venue in Mauritius; it incorporates a stunning 431-seat theatre, a rehearsal space, three bars, a restaurant, and four well-equipped, modular conference spaces. The latest addition is a fifth highly specified conference room that can accommodate up to 150 people seated. A soundproofed partition also enables the creation of an art gallery as required.
The jewel in the crown of CAC is undoubtedly the theatre which is designed to host a wide variety of events from all forms of performance art through to conferencing and even movies. "The theatre has incredible acoustic properties that are specially designed for unamplified performances," explains CAC sound manager, Kooshal Dwarka. "To reflect the same sound qualities for amplified performances we required a system that could deliver transparent reproduction and even sound dispersion with consistent tonal balance throughout the auditorium for as natural a listening experience as possible. Arup specified a d&b T-Series system – which offers a mix of line array and point source elements – as the optimum solution for CAC."
Kooshal was very happy with the choice of d&b as the theatre system. "With regards to sound consistency, d&b is far ahead of other manufacturers, with its ArrayProcessing feature providing a consistent tonal balance across the space," he remarks. "T-Series offers a very comfortable power-to-size ratio, perfect for our 431-seat auditorium; it is capable of handling any type of music, from classical to rock with enough headroom to handle powerful music without blasting the ears of the listeners!"
The system is based on L/R hangs of eight Ti-10L and two T-Subs per side with a central cluster of two V7P point source cabinets. Two V-G subs per side provide further low-end reinforcement whilst a range of 5S and E6 loudspeakers are deployed as under-balcony fills, front fill and effects loudspeakers. A single Ti-10P per side for outfill duties plus six M6 stage monitors and a range of Sennheiser wireless microphones and a wireless assisted listening system complete the line-up. This is all integrated with Yamaha consoles across a Dante network and managed via a Q-SYS Ecosystem which also handles the sophisticated video show relay system based on Blackmagic Design video technology with SDI distribution.
In addition to the theatre systems, SAW also provided digital signage and BGM/paging solutions for the foyer and public areas along with touch screen controllers to manage simple functions like audio source selection, music player control and volume. Finally there are a number of facility panels outside the auditorium and in the lobby and foyers.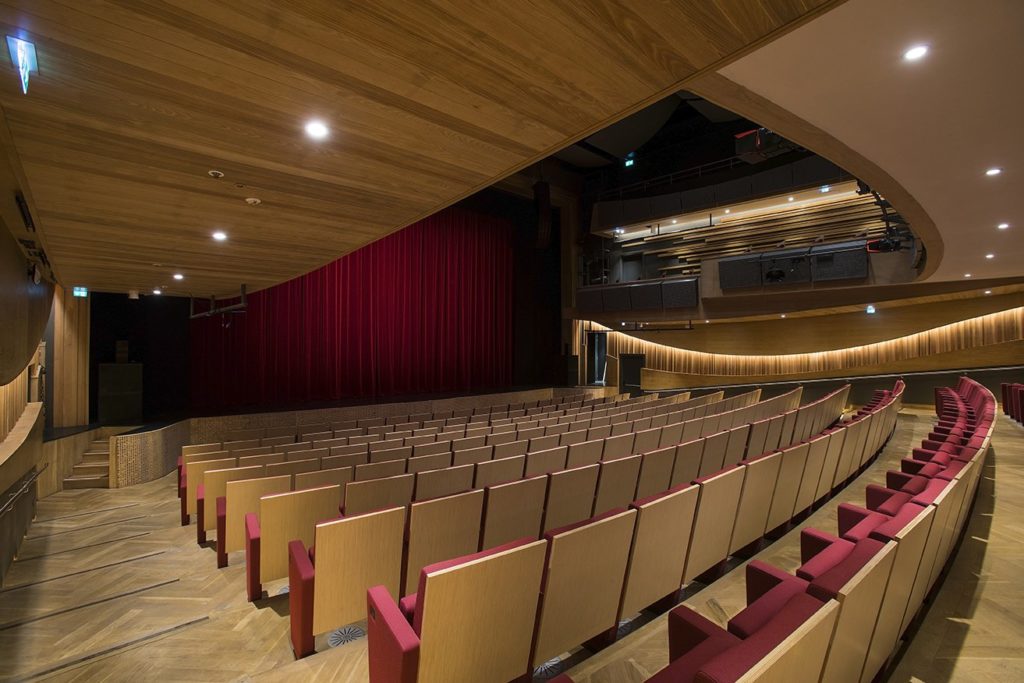 "We have an excellent system with an unmatched sound quality locally, which makes the reputation of the Caudan Arts Centre," declares Kooshal. "From an operational perspective, it's very reliable and stable, and offers control and monitoring from a single computer with the appropriate software for each application, which eases operation and troubleshooting no end.
"The installation also enables us to patch any device anywhere in the theatre – from the catwalk to the fly floor, stage, orchestra pit, auditorium, control room, foyer, BOH… literally anywhere! We have facility panels all over the building with analogue XLR ins and outs, network ports, SDI and multi-mode fibre, and even speakon sockets on some panels; all connections are made on a patch bay in the equipment rack. We've got everything we wanted – reliability, performance, plus ease of operation and configuration. It's every engineers dream!"
Further to the theatre, there is also a fully modular conference space that may be divided into up to four separate conference/events areas thanks to fully sound-proofed partitions. Each area has its own comprehensive AV system that may be used on its own or combined as part of a larger system as required. SAW were recently called back in to integrate a fifth conference space called La Scala with a capacity of around 150 seats and a partition which allows for the creation of an art gallery space as well. SAW extended the theatre's Q-SYS network to incorporate the new AV system comprising a Christie projector, a Dalite motorised screen, QSC loudspeakers and Sennheiser microphones.
At every stage of the build, installation and commissioning, Kooshal has been thoroughly impressed with the competence and level of service delivered by the SAW team. "Caudan Arts Centre is the very first venue in Mauritius with an installation of this type and quality," he notes. "I had the chance to witness some of the installation works just before the opening of the building when the whole site was still full of dust and concrete debris. It was amazing to see how all the cables (approx. 68km) were neatly laid through other installations to be terminated and tested at the patch bay and equipment rack. Every single cable running through the building is labelled, as per the schematic drawings."
He recalls the final 24 hours before opening as a particularly high-adrenalin period. "SAW was under huge pressure to terminate the essential installation before the inaugural show. With less than 24 hours to go, the PA was still on the floor and there were still 600 workers on site! The guys had to fly a line array and tune the PA in the midst of electricians, masons, and carpenters all struggling to get their own jobs finished – it felt like an impossible mission, but we had an opening show at the scheduled time with a great-sounding and perfectly tuned PA. SAW's service and professionalism, even under pressure, was impeccable, and remains so. Their technical support is second to none and they are always on hand for advice or anything else we might need. They are a great partner to have."
CAC Theatre Manager, Ashish Beesoondial concludes, "Our aim was to create a centre of excellence for art and culture, offering the very best in terms of space and facilities to artists and audiences alike. A good mix of local, regional and international shows ensures that the next generation of artists has a platform to perform and that CAC is a leading cultural light for Mauritius and the wider region. The involvement from the outset of leading international players like Arup and Stage Audio Works has ensured that our facilities are truly world class."