Stage Audio Works supplies immersive audio visuals for shortlisted EGG retail experience
SAW delivers comprehensive AV solution for transformative EGG retail experience in Cavendish Square, Cape Town.
"The world is not as it was, and neither is retail." This is the sentiment that led to the creation of EGG, one of South Africa's most innovative retail attractions. Located in the award-winning shopping destination of Cavendish Square in Cape Town, SA, EGG is described as an 'omni-channel platform' that combines the best elements of the physical shopping experience with digital innovation. The goal is to provide world-class in-store shopping across 250 local and international brands combined with an innovative e-commerce platform and interactive consumer app for a unique retail experience. Prominent AV solutions experts Stage Audio Works were called on to supply state-of-the-art audio, video, lighting and control systems across the whole of the 2,700m2 space for a truly immersive experience.
Working to the brief supplied by Shawn Godfrey of retail solutions specialists Airlum Technologies, it was SAW's job to design, supply and install all the AV systems. SAW selected audio solutions from Audec, Yamaha and Sennheiser, video systems based on Pixel Plus and LG LED screens driven by NovaStar, Lenovo and Atlona, and lighting equipment from ACME, Cameo and High End Systems. QSC's powerful Q-SYS ecosystem provides system-wide control. The scale, detail and innovative approach to the project have earned SAW a shortlisting for the prestigious 2021 InAVation Awards in the retail category.
Mike Summerfield, distribution sales manager at SAW elaborates: "We are delighted to support the EGG initiative in South Africa with our expertise in AV supply and conceptualisation. It is exactly the sort of ambitious, forward-thinking project that SAW excels in materialising. Working in tandem with Shawn Godfrey, of Airlum Technologies, our role was to bring the project to life, providing the technological solutions required. EGG truly offers a unique retail experience that has never been witnessed before in South Africa."
 For store-wide background music, paging and announcements, SAW designed a twelve-zone distributed system comprising 104 Audac ATEO4 speakers mounted in groups of four on CMA114 cluster brackets for smooth, 360-degree audio coverage. These are supplemented by twelve Audac NOBA8 subwoofers to guarantee a full, harmonious audio experience. A separate system was supplied for the central entertainment zone which is equipped with four more powerful Yamaha DZR15-D 2-way active loudspeakers for higher SPL playback. A Pioneer DJM-900 Mixer and two CDJ-900 Nexus CD players complete the picture.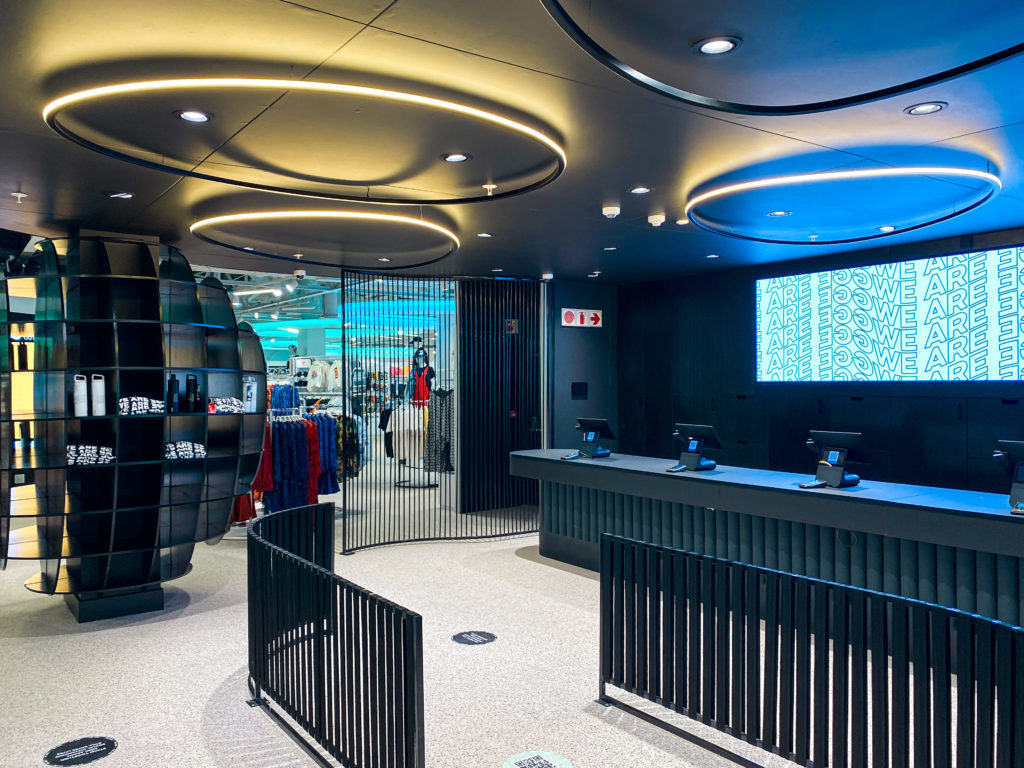 The entire audio system runs on a Dante network to ensure a consistently high quality of audio transmission and routed through a QSC Q-SYS Core 110F equipped with a 32 x 32 Dante module, which allows the client to route any input to any of the 12 zones – including the central entertainment zone – for complete flexibility.
SAW matched this high standard of sound design with an equally comprehensive video system. Five Pixel Plus P2.5mm LED screens for digital signage content are positioned at strategic locations around the store, to encourage a natural flow as well as increase efficiency. The largest of the screens at an impressive 5m x 3m, is located at the entrance to entice customers to enter the store. Screens two and three are placed behind the POS; designed to inform the customer of new products around the store. Finally, the last two screens are wrapped around the pillars in the entertainment zone running brand awareness campaigns for the EGG initiative. All of these screens are controlled with sending and receiving cards from Novastar. Furthermore, two 75" LG LCD screens are flown from the circular trussing in the entertainment zone – to be used for digital content playback and presentations on a more ad hoc basis. Video playback is handled by five quad-output Lenovo Thinkstation P330s, triggered via Q-SYS scheduling, allowing the client to adapt the experience across the store at their discretion.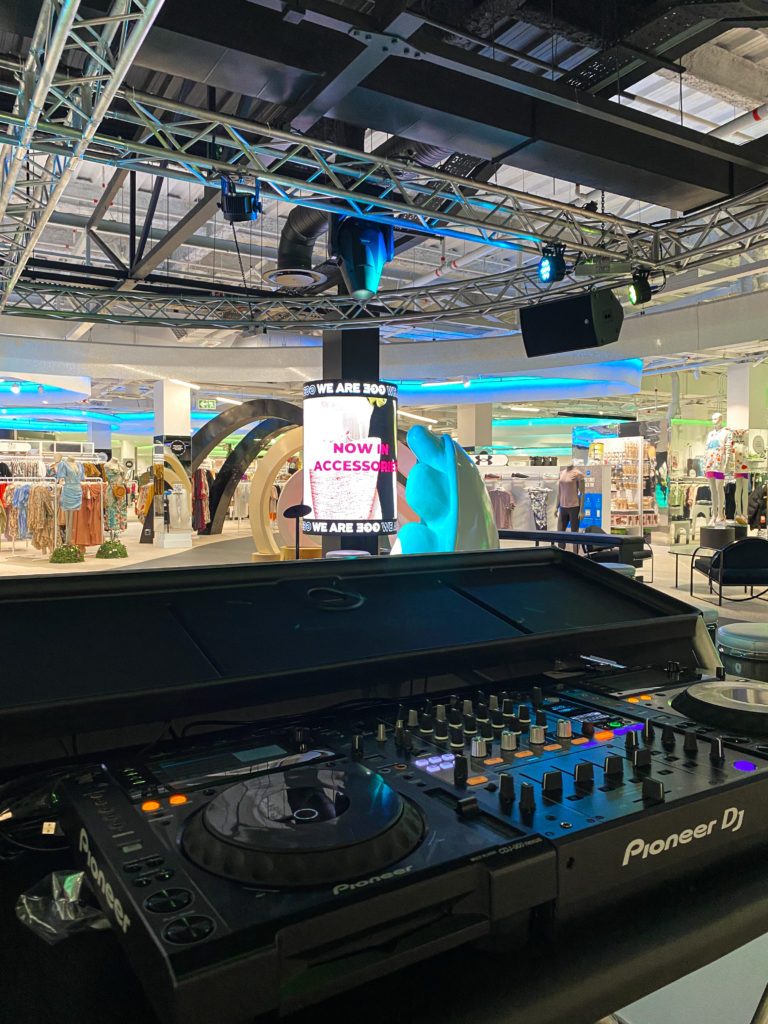 In terms of lighting, SAW was tasked with equipping the central entertainment zone, one of the primary focal points of the store. This area in particular would experience a lot of footfall and was a brilliant chance to showcase SAW's conceptualisation of lighting solutions. "Our clients had a clear vision of how they wanted the space to look and feel," says Summerfield. "The operative word was dynamic. To achieve this, we installed an array of Cameo PAR Wash lights and ACME Profile moving head LEDs, controlled with a High End System Hog 4 Widget triggered by the Q-SYS system. We were also asked to supply a pixel arch which we created by running over 65m of RGB pixel tape controlled by a DMX module across a series of specially created arch structures. I have to say it looks really cool!"
System-wide control is managed by the Q-SYS control system from QSC. Two 8-inch touch panels with specially designed custom UIs offer easy, fingertip control for audio, video and lighting. Q-SYS Schedular is programmed to turn all of these components on and off when the store opens and closes, providing regularity, consistency and reducing the chance of human error. Finally, SAW also supplied the venue with an Atterotech Zip4 Paging Station, allowing staff to page relevant messages to any section of the store with ease. Naturally, integrating this into the existing control system proved seamless, as it is a native Q-SYS peripheral.
Commenting on the success of the project, SAW CTO Nathan Ihlenfeldt states: "The EGG project was a fantastic opportunity to showcase SAW's potential to supply large scale, cutting edge technological solutions. We are thrilled to align ourselves with a progressive enterprise that is taking steps to evolve the modern retail experience, in South Africa, and the rest of the world."