Stage Audio Works supply Sound Stylists with new Yamaha Rivage consoles

Yamaha PM3 consoles deliver reliable audio mixing
for 947 Radio's Samsung Galaxy Move Festival
South African audio-visual production specialists, Sound Stylists, have recently invested in two new Yamaha PM3 Rivage consoles to add to their extensive inventory. Shortly after, they had the opportunity to test them in situ, deploying them as part of a networked audio solution at the Samsung Galaxy Move Festival, hosted by 947, a South African radio station, on the 4th and 5th of November. The consoles were supplied by Stage Audio Works (SAW) who were also on hand throughout the festival to offer technical support.
In recent years, Sound Stylists have embraced the future of networked audio by updating their entire audio structure onto the Dante format. This allows all their devices to talk to one another and makes life easier for everyone.
"We were already aware of the Rivage platform, but simply didn't have the need for it at the time. However, recently we were doing some research into new desks and were impressed to discover the Rivage surfaces all spoke to the same DSP. The fact that you can run two surfaces on a single DSP was an attractive concept, as it allows us to double our fader count as required. The DSP can also be run on its own, mirrored for redundancy or upgraded from the base 140 channels to an impressive 280!" remarks Kevin Glover, the director of Sound Stylists. "What swung it was the ease of integration with our current systems with its Dante compatibility – the technology slots nicely into our existing Rio racks and obviously plays nicely with our Yamaha QLs and CLs, making it a smooth and cost-efficient transition."
"We considered a number of brands; as a rental house, we are not partisan. However, we find that Yamaha offer a comprehensive array of products that are all interoperable, which works really well in the rental environment. The PM3s are flexible in every sense of the word. They are compact, light, and have a high channel and bus count as well as stellar effects and processing power. All of this is underlined by the rock-solid reliability that is typical of Yamaha," adds Glover. "They also sound phenomenal!"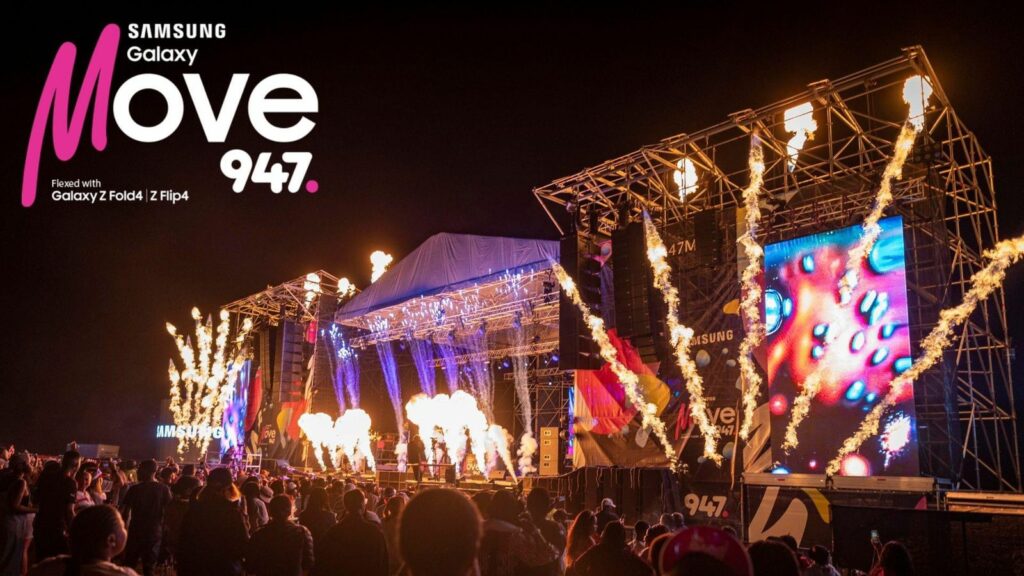 The first major test for the two consoles was at the Samsung Galaxy Move festival hosted by 947 Radio, an annual event which takes place at Prime Park in Olifantsfontein. The festival runs over the course of two days and boasts a line-up containing some of the best South Africa has to offer; at least partially influenced by listeners' feedback. This was not Sound Stylists' first rodeo. They have a longstanding relationship with Primedia Broadcasting, the media group that owns 947 Radio, having successfully delivered previous iterations of the festival.
Sound Stylists were involved every step of the way, from the stage design to the provision of the audio system and production on the day. The original audio system design placed the two PM3s at FOH, with a CL1 between them providing feeds to the subs, outhangs and frontfills. 60 channels were dedicated to the various effects required for each band, which were all run off Rio 32 Channel Dante Racks, and they all performed sound checks and had their settings saved prior to the event. However, unforeseen circumstances spurred a change in direction: "We experienced a lot of bad weather leading up to the concert, resulting in moisture interfering with our CL5, which was on monitor duty, rendering it inoperable," states Glover. "Fortunately, we were able to replace this with one of the PM3s, and as the desk is really intuitive, the monitor engineer was able to get everything up and running quickly. Most of the saved information had to be rebuilt, but we managed to resolve this in time. All's well that ends well!"
947 is a celebrated radio station that sets the bar for audio quality high. Sound Stylists, supported by Yamaha's reliable engineering, delivered: "Not one of the engineers that mixed on the day had anything negative to say about the desk. Every single engineer embraced the platform and all of them worked their way around the desk with minimal effort. Jonathan Charles from SAW was on hand for the Friday sound check as well as the concert and he was brilliant in assisting the engineers with any queries," comments Glover.
"We're proud to have supplied Sound Stylists with two new PM3 Rivage consoles which will serve them well for years to come," says Nathan Ihlenfeldt, CTO at SAW. "Samsung Galaxy Move Festival is a significant occasion for a lot of South Africans and it's great that we could play a part in that too, even if it was in a supportive capacity."
READY TO START
SOMETHING GREAT?
GET IN TOUCH
Johannesburg Office
T: +27 (0) 87 55 10 100
F: +27 (0) 11 568 4973
22 Kyalami Boulevard, Kyalami Park,
Midrand, 1684, South Africa
Namibia Office
T: +264 83 33 10 100
F: +264 83 33 10 114
Mindeco Park, 9 Faraday Street,
Southern Industrial, Windhoek, Namibia