A rose for Sennheiser Digital 6000 wireless systems
Wedemark/Las Vegas, April 8, 2019 –Whether it is the nerve-wracking Rose Ceremony or a one-on-one date: When television goes in search of the perfect love story and all emotions are laid bare, the sound is also vitally important. Only with perfect sound can you really express every emotional facet of the actors' voices. Cologne-based smartregie GmbH, the company responsible for the technical presentation of TV formats such as "The Bachelor" and "The Bachelorette" or the personality show "7 Töchter" (7 Daughters) for commercial TV channels, relies on top-quality sound provided by wireless systems from Sennheiser's Digital 6000 series.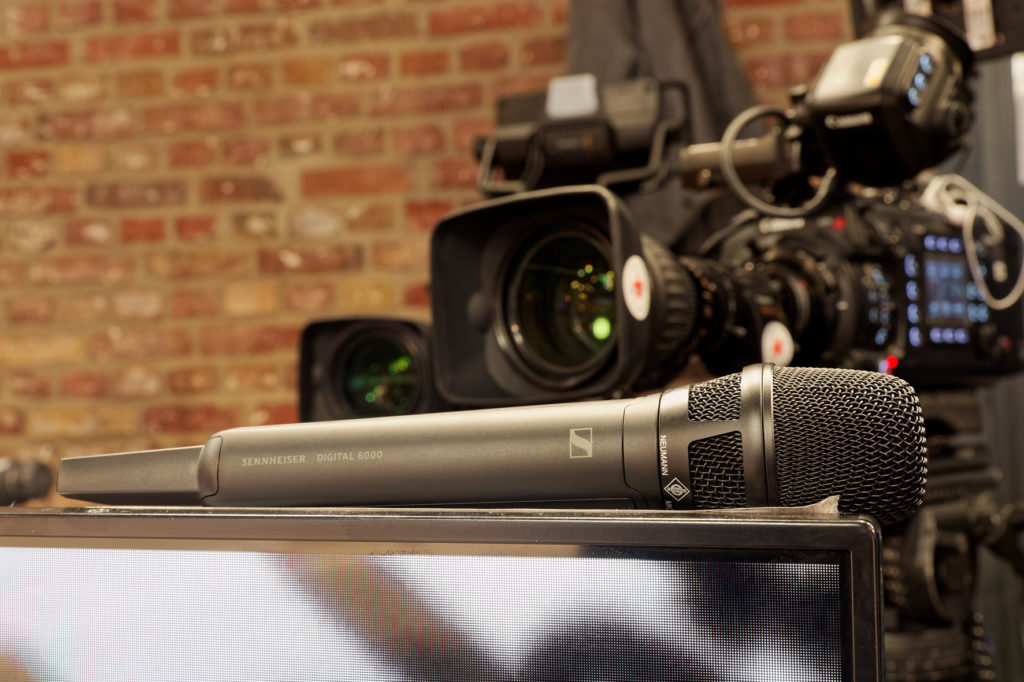 20 digital wireless channels
In early 2019, smartregie GmbH bought ten EM 6000 DANTE two-channel receivers, which can be combined with 20 Sennheiser SK 6000 bodypack transmitters. Added to this are several SKM 6000 handheld transmitters with Neumann KK 205 capsules, formats like the international recall shows of "Deutschland sucht den Superstar" – Germany's version of Pop Idol – use up to six SKM 6000. The transmitter battery packs and spares can be recharged in four L 6000 rack-mount chargers. The new equipment is rounded off by two Sennheiser ASA 214-UHF antenna splitters. The bodypack transmitters are mainly operated with Sennheiser MKE 2-4 clip-on microphones, which offer the benefit of being particularly robust in practical use, especially with concealed cabling. For open cabling on the other hand, Sennheiser MKE 1 clip-on microphones are the tool of choice at smartregie GmbH. Their special feature is their small size.
Practical tests have shown that the new Sennheiser SK 6000 bodypack transmitters even offer a little more range than the established SK 5212 in the applications typical at smartregie GmbH. In particular over large distances, the high signal-to-noise ratio of the new models has a noticeably positive effect on the sound.
The Sennheiser Digital 6000 systems were supplied by Audioservice Norbert Gutzmann e.K., Cologne. The company had already equipped smartregie GmbH with three racks, each of which contains five EK 6042 two-channel slot-in receivers, two ASA 214 and one SR 2050 IEM transmitter.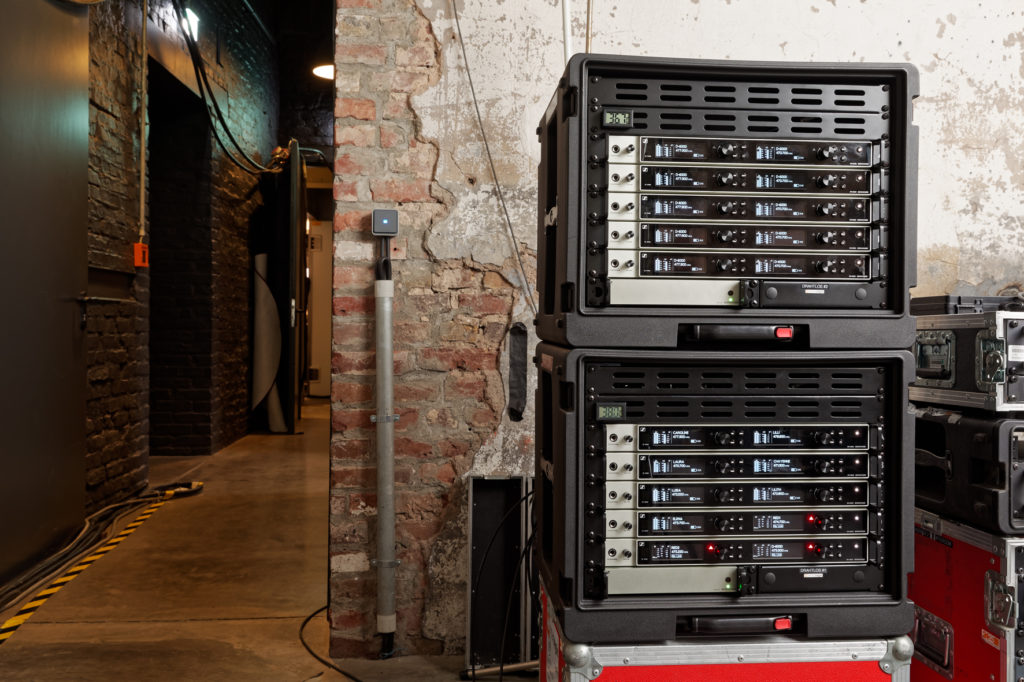 Perfect for worldwide use
smartregie GmbH operates its newly acquired transmitters from the Sennheiser Digital 6000 series in the A1 to A4 (470 – 558 MHz) frequency ranges, thus enabling them to be used worldwide. When formats such as "The Bachelor" are filmed, for example, in Miami, sometimes only a single TV channel in the typical US bandwidth of 6 MHz is available for wireless transmission in sunny Florida. Accommodating up to 25 analogue wireless channels without interference in this situation used to be almost impossible – the Sennheiser Digital 6000 systems solve the problem.
To calculate the suitable transmission frequencies, smartregie GmbH uses Sennheiser's WSM software (Wireless Systems Manager), which also serves the purpose of controlling and monitoring the Digital 6000 systems that are connected. Alternatively, the control systems available on the company's own Yamaha consoles are used. The consoles (CL and QL series) also display the remaining battery life, thus helping to ensure a smooth workflow.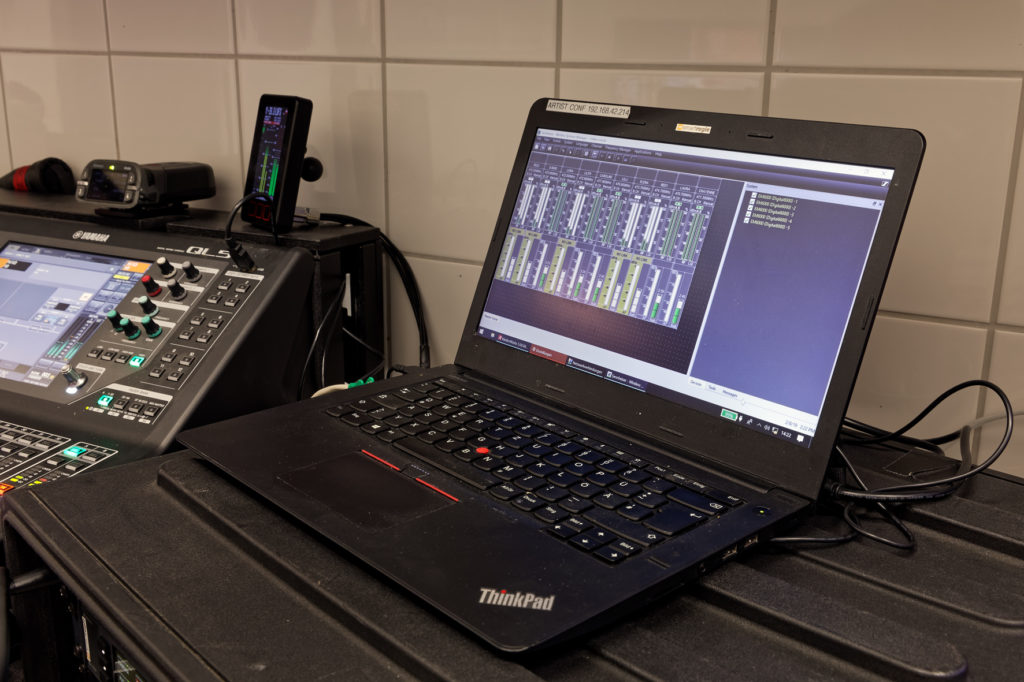 Rack transport with practical details
In order to keep freight costs to a minimum, smartregie GmbH frequently uses particularly lightweight but nevertheless sturdy transport cases from SKB Cases. The newly acquired Sennheiser Digital 6000 systems are also kept in two of these transport solutions. The 19" racks not only house the EM 6000 DANTE receivers but also a connector panel mounted on the back that provides, among other things, the analogue receiver outputs to XLR connectors. The main antenna inputs A and B ("RF IN") are also available and are connected in the rack with a Sennheiser ASA 214-UHF four-way antenna splitter. The antenna signals can be looped through to a second receiver rack via two outputs ("RF OUT"). A further equipment feature of the transport case is an Aruba network switch that carries the Dante signals from the receiver and which can itself make a corresponding signal available to an RJ45 output for connection to the network.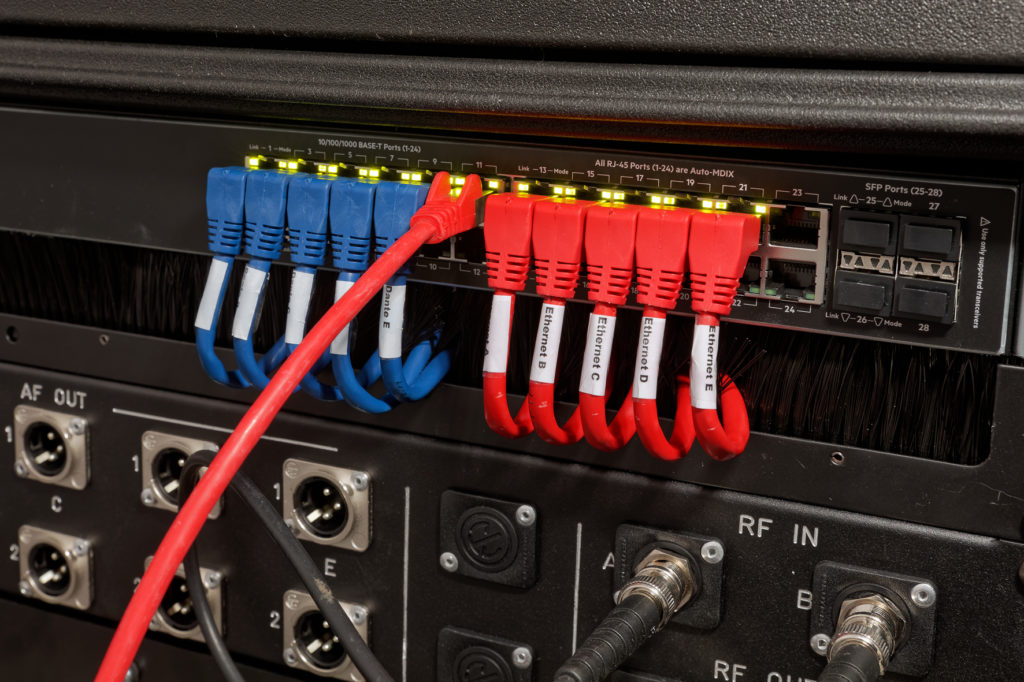 New sound potentials
Small, high-quality clip-on microphones such as the MKE 2, which have been part of the Sennheiser product range for some time now, are able to fully develop their sound potentials on the SK 6000 bodypack transmitter. As no dynamics processing is performed by a compander, there is noticeably more signal depth and transparency in a direct A/B comparison. As Martin Groß comments: "I can absolutely tell the difference; the sound is finer and more delicate; you can really hear that the signals are not being processed as much as they are in a typical analogue channel. It's often the case that actors speak very quietly when filming, and if you as a sound engineer then have to turn up the gain control a long way, digital transmission means that you no longer increase the noise that is typical of an analogue channel – and the signal remains clean!"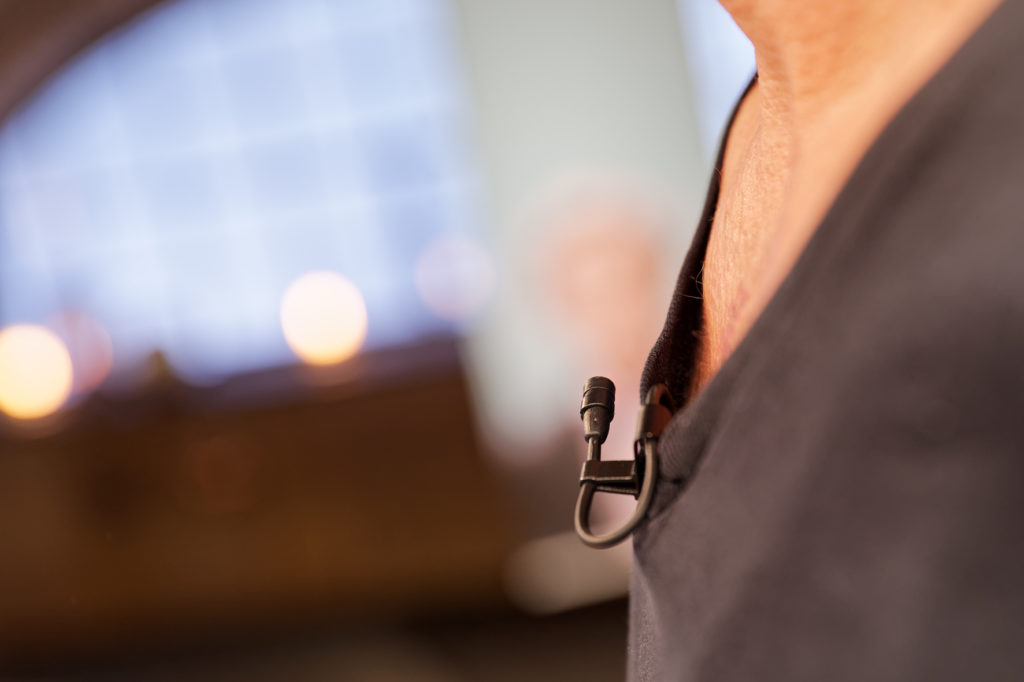 Integrated digital system
The Dante signals coming from the Sennheiser EM 6000 DANTE receivers are tunnelled via the Riedel MediorNet, together with other data, and can be taken off at the required output points. The audio control centre for sound engineers at smartregie GmbH is a Yamaha console that is used to administer all signals and to supply them to a digital multitrack recorder, in some cases as individual tracks, for subsequent use in post-production.
Operational reliability and range
When the experts at smartregie GmbH talk about the main requirements concerning wireless technology, they always mention the terms reliability and range. "The long-range mode of the Sennheiser 6000 series is perfectly suited for our needs," says Martin Groß. "In contrast to musicals or theatre productions, we are not working in sets that can be planned. But we have to ensure reliable signal transmission in all circumstances, and the possible range is a factor that should not be underestimated."
Groß points out that the Digital 6000 systems are a perfect combination for the Sennheiser equipment already available at smartregie GmbH. For example, the newly acquired digital wireless channels are operated with the Sennheiser antennas (14 x AD 3700) that the company has had for some time, which is a financial benefit due to the large number of antennas that are used for a typical production. For "The Bachelor", for instance, the wireless system needs to completely cover an entire house, including the garden and the driveway.
From a professional perspective, one challenge is the fact that the bodypack transmitters are not always handled properly. It often occurs that the amateur performers lie with their whole weight on the bodypack transmitters and reduce their signals. Using a large number of antennas is therefore entirely justified.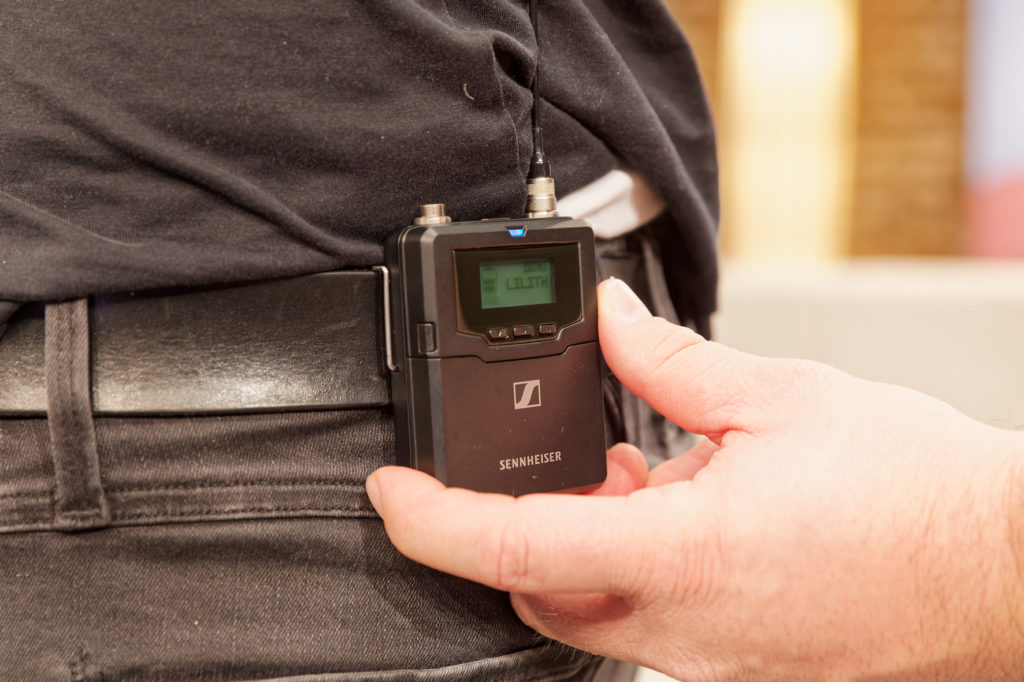 Bodypack transmitters in the swimming pool
Even before it acquired its new digital wireless systems, smartregie GmbH was already successfully using equipment from Sennheiser. For example, their EM 3732 receivers are highly popular and have proven themselves around the globe. "The Sennheiser SK 5212 bodypack transmitter has always been a totally reliable workhorse for us," says Martin Groß. "Sennheiser's wireless systems always worked everywhere without any failures – provided that somebody didn't jump into the swimming pool with an SK 5212, which did actually occur when we were filming formats like The Bachelor…" (laughs)
When talking about wireless technology, Groß recalls some particularly challenging projects in the past, such as "Hautnah: Die Tierklinik" (Close-Up: The Veterinary Clinic). For that project, a performance area comprising four floors and the basement of a veterinary clinic had to be seamlessly covered with receiving antennas, which required the use of a custom-made Sennheiser 2x4in1 antenna-combiner. Up to 18 wireless channels based on EM 3732 receivers were used and 500 metres of RF coax cables were laid – a highly demanding task which today could be solved much more elegantly thanks to the possibilities offered by Sennheiser Digital 6000 wireless systems.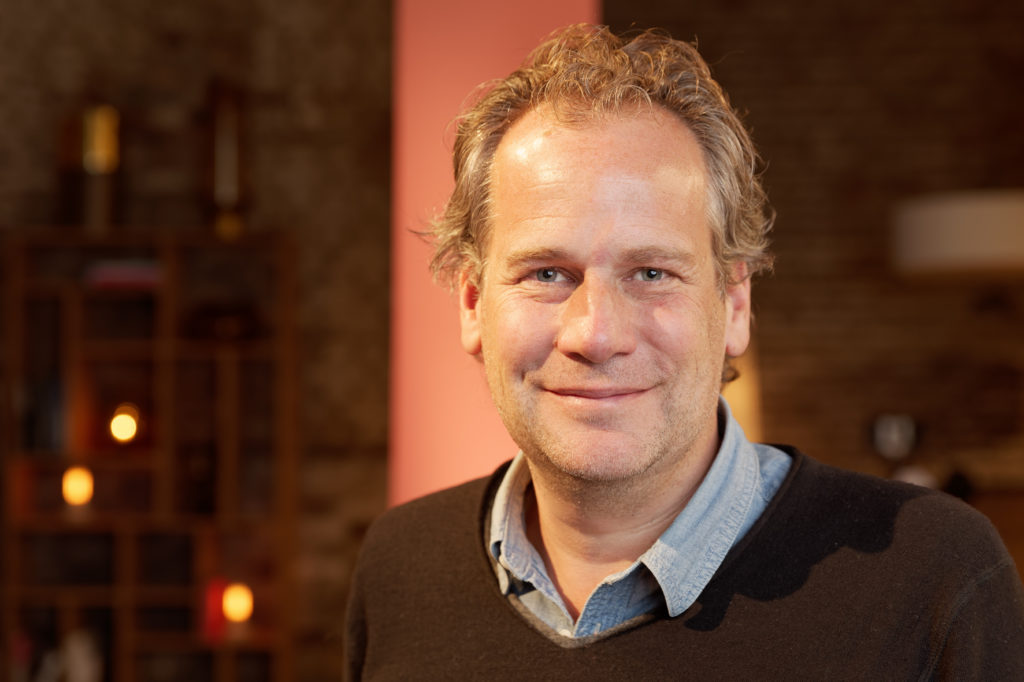 State-of-the-art with Sennheiser Digital 6000
"With our Sennheiser Digital 6000 systems, we can rest assured that we have state-of-the-art equipment," says Martin Groß with considerable satisfaction. "We want to offer our customers the highest possible quality standards, and our new digital wireless systems fulfil these demands perfectly. What is more, we have Norbert Gutzmann to support us, a really outstanding service expert who understands every aspect of our special requirements."
Roland Gross, Managing Director of smartregie GmbH, puts it like this: "Ever since we started carrying out complicated productions on location with smartregie GmbH, there has never been an alternative to wireless systems from Sennheiser for us. The new Digital 6000 systems integrate themselves perfectly into our digital workflow as a forward-looking further development."
About Audioservice Norbert Gutzmann
Norbert Gutzmann can look back on a career spanning more than four decades in the professional audio industry. The passionate guitarist has worked, for example, as Technical Director for Recording Technology at EMI Electrola Studios and as Technical Director at the renowned Dierks Studios. He was responsible for highly successful music productions for numerous world-famous artists. For example, in 1983 he provided technical support for the first DDD recordings with a Sony 24-track DASH machine (for Herbert von Karajan and Michael Jackson's recordings for the song "Ghosts"). As Assistant Engineer, he has a Grammy nomination and double-platinum studio albums to his name. He has also been a lecturer in the faculty of "Professional Audio Technology" at the Medienschule Erftkreis.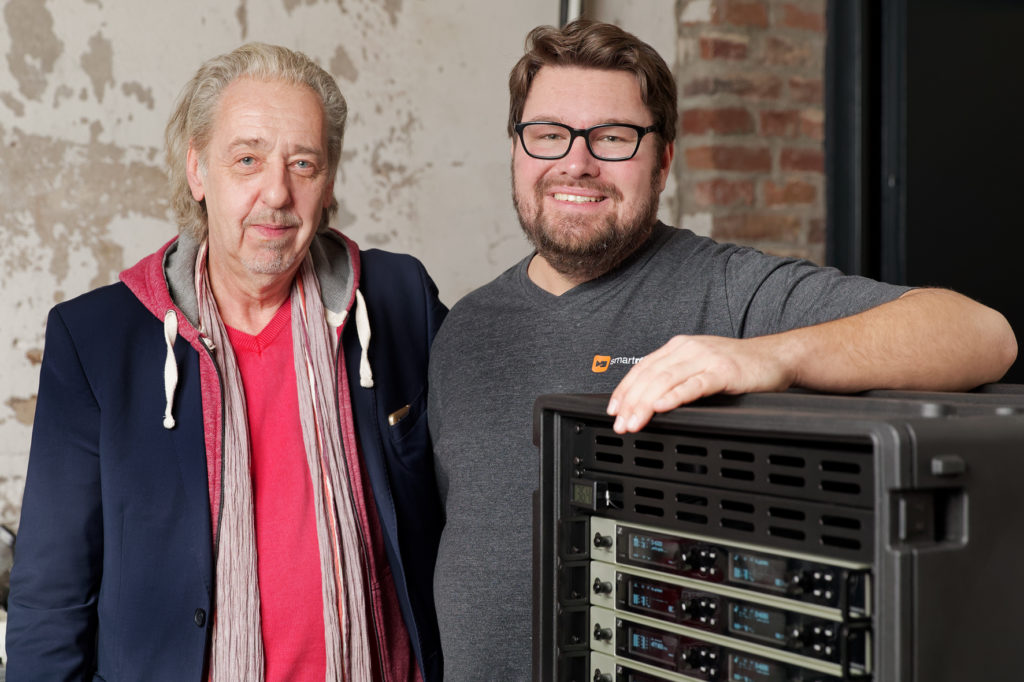 Norbert Gutzmann is Managing Director of the Cologne-based company "Audioservice Norbert Gutzmann e.K." and is a certified Sennheiser Premium Partner. The top priority at Audioservice is providing expert advice and project support from the initial contact right through to final delivery. His customers include camera teams, advertising agencies and production companies as well as broadcasters and their content providers. A workshop, which is part of the sales department and is equipped with several measuring stations and all the necessary special tools, ensures sustainability in service and maintenance. Adaptations to existing equipment or custom-made solutions are produced individually by Audioservice in accordance with the customer's requirements.