• Award-winning global audiovisual firm Christie to create life-like visuals on Al Wasl Plaza dome
• More than 250 groundbreaking laser projectors will illuminate iconic dome, visible from the sky
• Latest Official Partner to provide unparalleled visual experience across the entire Expo 2020 site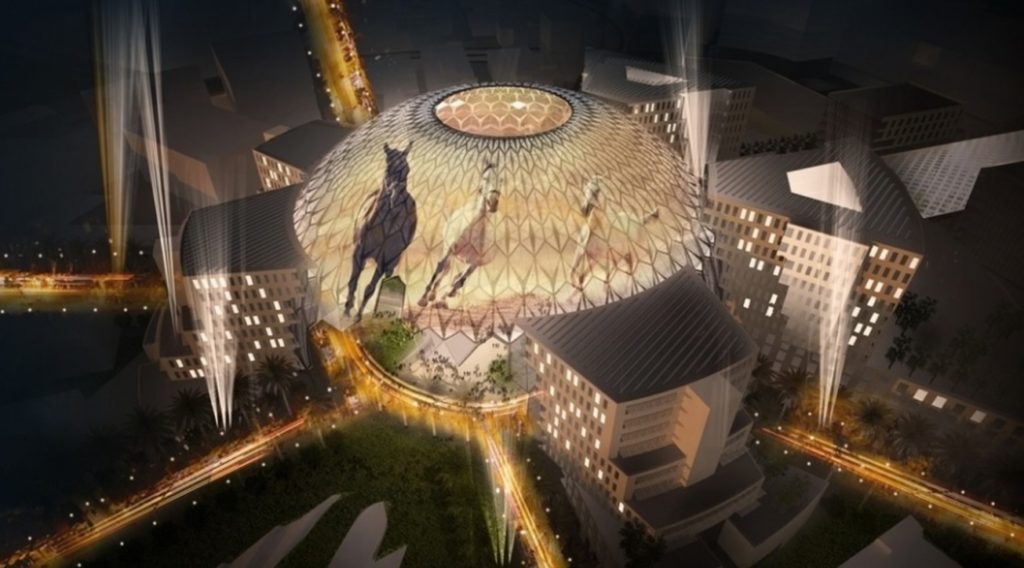 True-to-life visuals and a rich sea of colour will illuminate Expo 2020 Dubai and create spectacular scenes on Al Wasl Plaza's iconic dome, thanks to award-winning global audiovisual technologies firm Christie.
As Exp​​o 2020's newly appointed Official Displays and Projection Partner, Christie will showcase its breakthrough laser projection technology, including using more than 250 of its D4K40-RGB projectors to create life-like evolving scenes on Al Wasl Plaza's giant 130-metre-wide projection surface, which can also be seen from above.​
Christie's groundbreaking innovations have featured in Hollywood blockbusters and at major sporting events. Regarded as setting the gold standard for display and projection technology, Christie will supply and manage all display screens​ across the Expo site, contributing to an exceptional Expo experience for the millions of visitors expected to attend.
Ahmed Al Khatib, Chief Development and Delivery Officer, Expo 2020 Dubai, said: "We aim to create an unrivaled experience at Expo 2020 and spectacular visuals on the giant Al Wasl Plaza dome will be an iconic part of this. Christie is a trailblazer in this field and we anticipate an array of memorable displays across the Expo site thanks to Christie's innovative technologies."
Bryan Boehme, Executive Director, Global Sales, and Business Development, Christie, said: "We are proud and excited to be an Expo 2020 Dubai Official Partner and look forward to creating memories with our unparalleled visual displays. The Christie D4K40-RGB pure laser projector is a powerhouse of technology and will wow the world with its unrivaled, rich and crisp visuals that raise the bar in image quality, making sure Expo 2020 welcomes the future in the most unforgettable and magical way."
Christie operates in more than 20 countries and has operated across the UAE and Middle East from its Dubai office since 2007. The firm has installations across world-class events, retail centers, classrooms, and movie theatres, and operated at the World Expo in Shanghai in 2010.
Expo 2020 Dubai expects to attract 25 million visits between 20 October 2020 and 10 April 2021, with about 70 percent of visitors projected to come from outside the UAE – the largest proportion of international visitors in the 168-year history of World Expos.
The first World Expo to be held in the Middle East, Africa, and South Asia (MEASA) region, and the largest event ever staged in the Arab world, will bring together more than 200 international participants, including countries, corporations, multinational organisations and educational institutions, to explore Expo's theme of 'Connecting Minds, Creating the Future'.
About Expo 2020 Dubai
Expo 2020 Dubai is guided by the belief that innovation and progress are the result of people and ideas combining in new ways. For six months from 20 October, 2020, Expo will bring together 192 countries and millions of people to celebrate human ingenuity: 'Connecting Minds, Creating the Future'.
• During the six months from 20 October 2020 to 10 April 2021, we expect to welcome 25 million visits
• About 70 percent of all visitors are anticipated to come from outside the UAE – the largest proportion of international visitors in Expo history
• We aim to create and deliver an inclusive and global Expo with more than 200 participants, including nations, multilateral organizations, businesses, and educational institutions
• Expo 2020 also has an ambitious volunteer programme, which aims to include more than 30,000 volunteers from a wide range of ages, nationalities, cultures, and backgrounds
• The Expo site covers a total of 4.38 sqkm, including a 2 sqkm gated area. It is located adjacent to Al Maktoum International Airport in Dubai South
• Expo 2020 Dubai is the first World Expo to take place in the MEASA (Middle East, Africa, and South Asia) region