Europe – Yamaha has announced the addition of MG10XUF and MG12XUK mixing consoles to the popular MG Series line-up.
MG Series mixers are compact, easy-to-use solutions for small-to-medium scale event and live performance applications. Since being first introduced in 2003, they have become standard equipment at many venues, with refinements and upgrades continuing to expand their suitability for a wide spectrum of sound reinforcement situations. The sonic quality, design and reliability of the third-generation MG series (released in 2014) has enjoyed particular worldwide acclaim.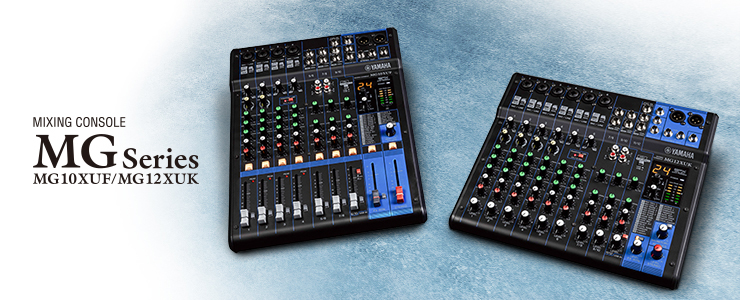 The new MG10XUF and MG12XUK models add broader choice to the popular 10 and 12 channel categories within the third-generation MG Series line-up. While the adoption of linear faders in the MG10XUF offers fine level control and direct visual feedback, the MG12XUK employs rotary controls which mean the console has more compact overall dimensions. With the release of these new models, users gain greater freedom to choose configurations that best suit their individual needs.
All models feature Yamaha's state-of-the-art discrete Class-A 'D-PRE' microphone preamplifiers. These studio-grade preamps utilise inverted Darlington circuitry to deliver outstanding sonic quality with ample power at low impedance.
The new models also feature a USB 2.0 audio interface capable of 24-bit/192kHz quality for playback of digital content from a PC and/or recording of the mixer's output to DAW software, such as the included Steinberg Cubase AI. USB Audio Class 2.0 is also supported.
"The third generation of our MG mixer line-up was released in 2014 with an extensive choice of models," says Yoshi Tsugawa, general manager, PA division. "The MG line-up rapidly earned an enviable reputation with users in a wide range of applications throughout the world. These new models expand the line-up even further, providing additional choices that will ideally match the individual needs of more users."
(Jim Evans)
Source: LSI Online ►