Heritage of Faith Ministries International adds StreamWorks end-to-end streaming capabilities for cross-continent communication
Stage Audio Works continues to work with HOFMI to augment worship experience
Witbank, South Africa, July 2021 – Founded in 1998 in Witbank, SA, Heritage of Faith Ministries International (HOFMI) started out as slab of concrete, four walls and a tin roof. The intervening years have seen the church grow and develop into an auditorium that can seat up to 500 people for a high quality in-person experience, and more recently implement technology solutions to enable broadcast capture and playout. Stage Audio Works has been a key partner in the technological development of HOFMI for the last several years, the most recent being the implementation of a StreamWorks end-to-end streaming solution to allow direct communication with HOFMI's associate church in Fort Worth, TX, USA. The experience was completed with a 5760mm x 3360mm Pixel Plus Xcell-i LED wall which forms an impressive backdrop to the stage.
HOFMI Technical Director Matt Ratcliffe takes up the story: "Our first engagement with Stage Audio Works was when we upgraded our consoles at our Johannesburg and Witbank locations to Yamaha CLs. Over the years our relationship with SAW has developed beyond basic equipment supply to utilising their immense technical expertise to design and build custom solutions to help us achieve our goals. Nathan and I have worked fairly closely over the last couple of years talking through our specific needs and how we could cater to them. One of our main goals is to use the Witbank building – principally the auditorium – as a broadcast campus facilitating the capture and broadcast to several campuses simultaneously via web or TV broadcasts, with either live or post playout."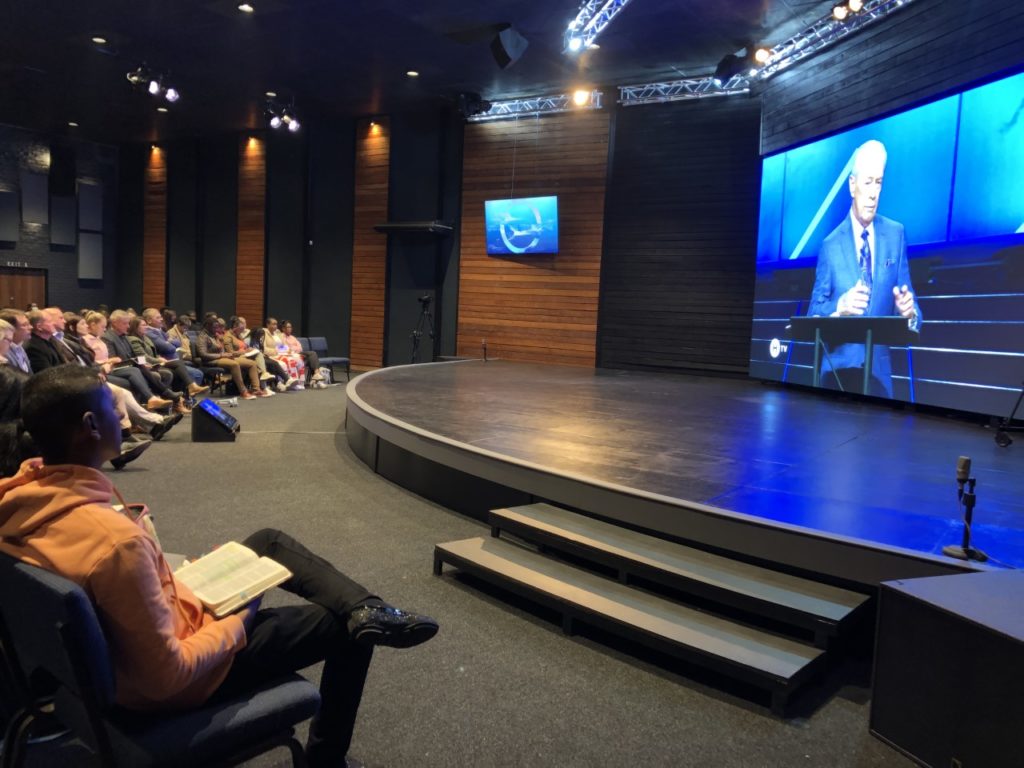 A major part of this project was the setting up of a low latency, bi-directional stream with an associate church in Fort Worth, TX. The first stage was to transition HOFMI's broadcast setup from the OBS (Open Broadcast Software) platform which they used to stream directly to YouTube to the StreamWorks platform. "This gave us the reliability of SRT and the benefit of StreamWorks support in the event of any hiccups," explains Ratcliffe. "We then deployed a Kiloview E1 encoder that removed our reliance on Apple computing power behind OBS." The E1 is a compact, low-cost solution that provides easy encoding from a single SRT stream and two channels of audio. "Once we'd stabilised the broadcast campus stream, we built a mobile 'streaming box' containing a Kiloview E1 encoder and a Kiloview DC220 decoder for sending and receiving video from a remote location, two Radial Stagebugs for connecting external devices (laptops, MP3 players etc.) to the PA, and a small router for remote access via VPN should it be required.
"All of this was packed into a Stage Plus 3U flight case – designed and built by SAW's manufacturing division – with a custom-built drawer to allow for easy access from the back and a properly labelled patch panel at the front for easy I/O. We then shipped the streaming box off to Fort Worth where, with the help of StreamWorks, we were able to implement the bi-directional stream between Witbank and Fort Worth – or wherever the box happens to be! In essence, this system offers a plug-and-play solution for reliable, low-latency bi-directional streaming to and from remote locations using HOFMI Witbank as the production centre. Furthermore, it is capable of being scaled to multiple campuses. It's a fantastic solution and one that we couldn't have implemented without Nathan and the Stage Audio Works team's help. The cherry on the cake is the great-looking Pixel Plus LED wall at the back of the stage which brings the whole project to life in the Witbank auditorium."
SAW's Nathan Ihlenfeldt is pleased to see the project come to fruition. "It's been a pleasure working with Matt on his various projects over the years and to see how HOFMI's technical resources have developed as a result," he says. "Matt's passion and enthusiasm is infectious, and it pushes us to find solutions we may not have imagined otherwise. We're already looking forward to his next project, whatever it may be!"