Sennheiser's Digital 6000 series get taken to extremes.
Hosted by comedian Jack Whitehall and once again held at London's The 02 Arena, this year's BRIT Awards saw two of Britain's most exciting breakthrough pop acts, Stormzy and Dua Lipa, take home the top prizes, and Sennheiser's Digital 6000 series get taken to extremes.
Britannia Row Productions provided all requirements for the show's audio system, which was designed by BRITs' head of sound Colin Pink, with a combination of Sennheiser Digital 6000 and 9000 series microphones proving the majority choice for both artists and presenters. Now in its 16th year of supporting the event, this year saw Sennheiser make the almost impossible a reality.
As well as winning both British Album Of The Year and British Male Solo Artist, Stormzy gave an epic performance beneath an indoor waterfall effect which soaked both him and his SKM 6000 as he sang his hit singles Blinded by Your Grace, Pt.2 and Big for Your Boots.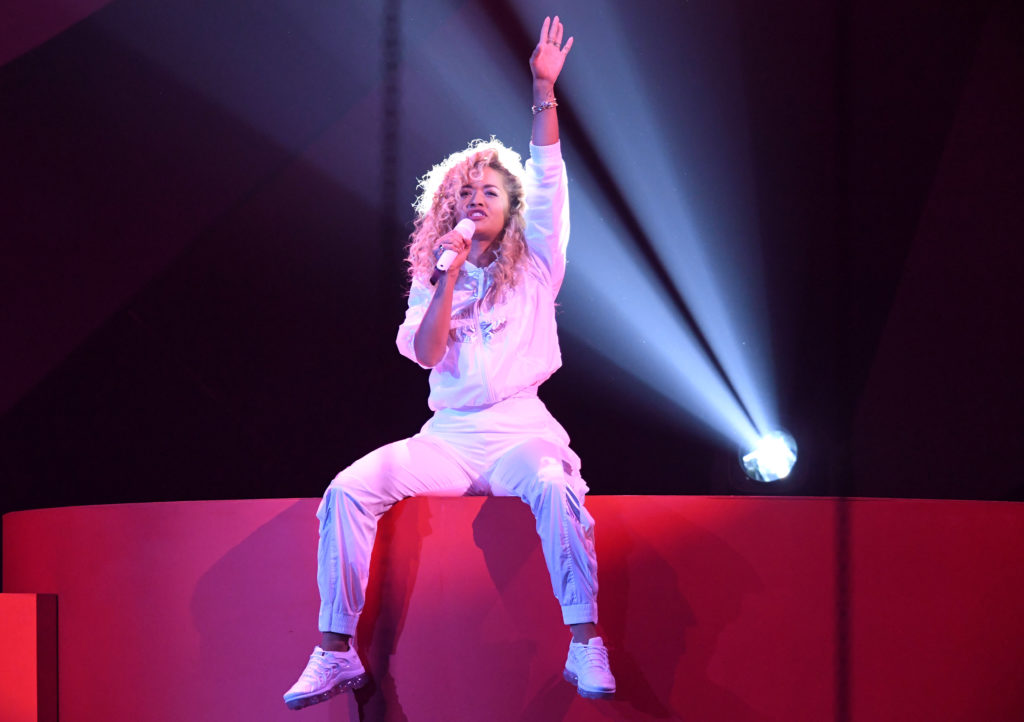 "When I was told about Stormzy's production idea for the BRIT Awards, I thought, wow! How are we going to do this and which Sennheiser mic would be the best choice?" says Raphael A. Williams, Stormzy's sound engineer. "We decided to use D 6000 along with a 9235 dynamic capsule."
To ensure the microphone was fully waterproof, Raphael completely covered the mic head with cling film during rehearsals. "But that took the clarity away," he recalls. "So we tried putting cling film under the foam closer to the capsule and that worked really well. Our original plan was to swap the mic out straight after the waterfall section of the show, but we didn't need to as it worked so perfectly. After the rehearsal, we opened up the capsule and, even though the cling film wrap and the capsule were soaking wet, the microphone still worked. We dried it off in rice overnight and it worked great the next day, too."
Raphael says the overall result was amazing. "I could hear the water hitting the mic in my in-ears and I thought, this is incredible!" he says. "D 6000 is so clean and transparent; What you put in really is what you get out. Stormzy was excited about the event and the fact that we were able to execute his creative idea without any glitches was great."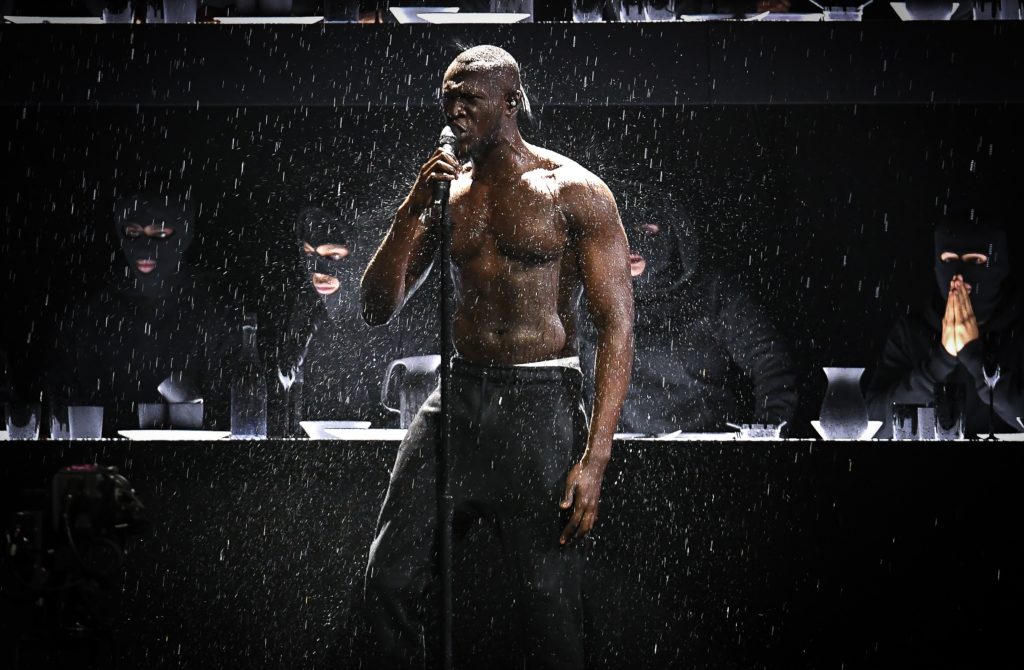 Providing support in the run-up to the show was Sennheiser artist relations manager Jack Drury, with customer development & application engineer Andrew Lillywhite on hand throughout the show, both working hard behind the scenes to make sure every request was met. One major task was providing Rita Ora with a fully customised white SKM 6000.
Sam Savile, Rita's monitor engineer, had been looking to move her to Digital 6000 after testing it with another artist last year and instantly becoming a fan.
"When Colin Pink got in touch to say that Brit Row had a large amount of D 6000 available on site and offered it for our use, it was the perfect opportunity," says Sam. "I first got the request from Rita for a white mic for the performance on the Friday evening before the show, when the crew were just about to take off for another show in Kosovo."
Sam immediately texted Jack Drury, who put him in touch with Rebel Trading Company (RTC), specialists in the design and manufacture of custom microphone stands, to start the customisation process rolling.
"The 9235's consistency with the 5235 made it an easy step across," says Sam. "But the big challenge was getting the mic to site in time for the BRITs' dress rehearsal, as we understandably weren't prepared to make a switch after that."
"We got an email from Jack late Friday night asking if we could do a super-fast customisation on a D 6000 for Rita's performance at The BRIT Awards," explains RTC's Maria Perna. "Initially, it looked very unlikely as we were not going to get our hands on the mic until Monday lunchtime, and it needed to be back at Sennheiser for Tuesday morning ready for rehearsals. It just didn't give us enough time to prep, paint and top coat to the standard we work to. But we have supplied quite a few Rebel Custom Mic Stands to Rita over the years and we love working with her and her team; they are valued clients, so we were not about to let this one go."
Maria called Jack and then came a game changing result. "He was willing to drive the mic over to us on Sunday, which meant if we got to work straight away Sunday evening the customisation process would be possible," she smiles. "It was a great example of everyone pulling together and doing what's needed to make it happen. I must say, watching Rita's amazing performance and also seeing how the mic finish really complimented the outfits made it all worthwhile. I loved the creative team's vision; it's all in the detail and we are happy we were a part of it."
"The service was superb from beginning to end," adds Sam. "Jack really went above and beyond to get the mic over to Rebel in time for the paint job to be finished. Turning around a custom paint job in a single office day is no mean feat, especially with the additional disassembly, assembly and testing of the SKM 6000 wireless microphone. "I'm really pleased with the finished product and so is Rita. The paint job is flawless and the sound quality is superb. I've been a fan of the Sennheiser 5200 for years, but the increased sound quality with D 6000 is instantly noticeable and the lack of a compander makes for a really clean top end."