Stage Audio Works bring demonstrations to life with SA Van Conversions
The KwaZulu-Natal Sharks Board benefits from extensive audio-visual revamp
Durban-based, SA Van Conversions is a leading vehicle conversion company, specializing in OE accredited vehicle conversions across South Africa and the SADC region. Previous projects have garnered them respect from peers within the industry, as well as from the government. The team at SA Vans are motivated by excellence as they strive to integrate customer-focused solutions within a wide range of LCV, MCV and Heavy-Duty vehicle platforms, whilst working to the highest standards & stringent design parameters relating to OEM and Road Traffic compliance. Well-renowned for their customised Ambulances, Mobile Clinics, Hearses and Busses, SA Van Conversions are no strangers to bespoke mobile conversion projects with dedicated manufacturing plants situated in Gauteng, KwaZulu-Natal and Eastern Cape.
As part of a recent project, Stage Audio Works teamed up with SA Vans' Durban-based Head Office to build a fully AV-equipped mobile facility for the KwaZulu-Natal Sharks Board Maritime Centre of Excellence (better known as the KZN Sharks Board) to utilize during their live demonstrations, which include the dissection of shark species in front of their audience. In this educational segment, the audience is informed on the sensory biology of sharks and the role they play as predators in the marine environment."
Stage Audio Works were brought in to design and install a complete AV system for the touring truck which opens up to create a full stage complete with integrated PA and large video screen. Stage Audio Works specified a Plus Audio and Pixel Plus solution to handle audio and video respectively. In this ever-increasing technological era, these tools help to immerse and engage audiences – especially younger generations. The company also supplied a full DJ Setup, comprising a professional-grade Denon DJ system, along with a pair of Plus Audio M13 stage monitors.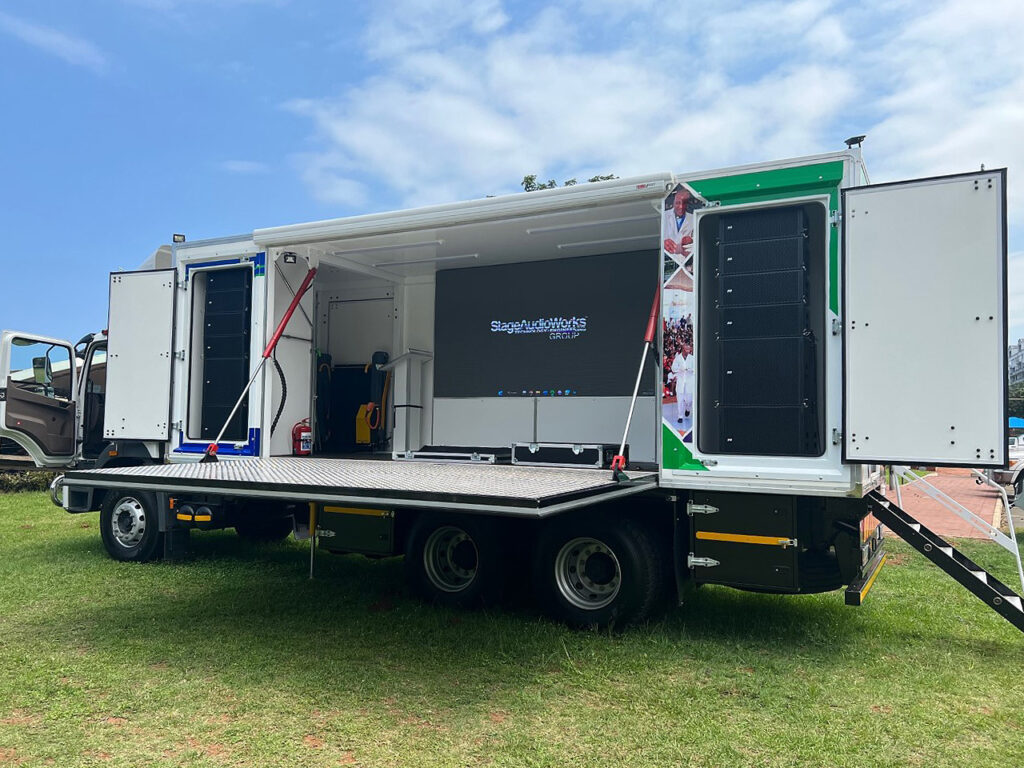 "After talking with SA Van Conversions and the end-client, we decided on a Plus Audio sound system based on the compact Li-series which offers an excellent quality-to-price ratio and is ideally sized for the project," explains Victor Vermaak, sales representative for SAW. "Four L208 loudspeakers and two L118 subs are per side are built into the van as in L/R stacks. The system is powered by our proprietary Plus Audio 12AD amplifiers."
SAW also supplied a Sennheiser EW100 G4-835-S handheld wireless system, paired with an additional corded E835 microphone. "This solution is durable and easy to use, and the cardioid design of the E835 is also ideal for KZN Sharks Boards presentation style and touring requirements," says Vermaak.
"For the visual element, we supplied a fully weatherised outdoor Pixel Plus LED screen mounted inside the truck on what is effectively the back wall of the stage," he continues. "We paired it with a Novastar processing solution. We've found this combination to be highly effective across a number of projects."
Finally, Stage Audio Works provided a range of Stage Plus flight cases to protect the equipment whilst on the road, specifically for the Denon DJ equipment, the amplifiers, the microphones and the digital mixing console.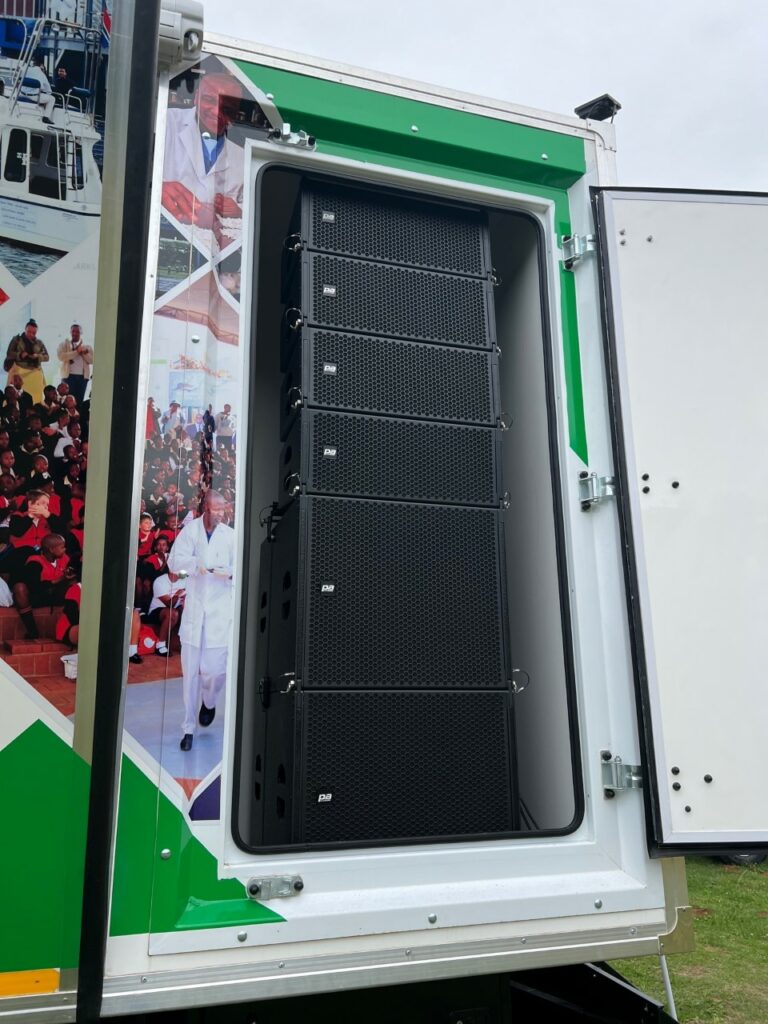 "We're thrilled to be a part of delivering this project, which was particularly close to our hearts," recalls Nathan Ihlenfeldt, CTO of SAW. "Many of us recall witnessing the same KZN Sharks Board live dissection when we were younger. The organisation is renowned for their work, and it's great to see them carry it forward, finding new and exciting ways to educate future generations on living in harmony with sharks while minimising environmental impact."
"Our portfolio of work is naturally extensive – clients often come to us requiring highly-specific bespoke solutions – but even so, this project was a first," says Justin Williams from SA Van Conversions. "We're thankful for SAW's assistance in the design and supply stages. Together we've implemented a cutting-edge system that the KZN Sharks Board are already putting to great use!"
READY TO START
SOMETHING GREAT?
GET IN TOUCH
Johannesburg Office
T: +27 (0) 87 55 10 100
F: +27 (0) 11 568 4973
22 Kyalami Boulevard, Kyalami Park,
Midrand, 1684, South Africa
Namibia Office
T: +264 83 33 10 100
F: +264 83 33 10 114
Mindeco Park, 9 Faraday Street,
Southern Industrial, Windhoek, Namibia