20 years ago the former central railway station in the German spa town of Baden-Baden was repurposed as the ticket office and foyer for a brand new venue, Festival Hall Baden-Baden, the country's largest venue for opera, ballet and live classical music. Thanks to its state-of-the-art acoustics, Festival Hall Baden-Baden is renowned for its excellent sound. It also stages presentations, jazz, rock and other amplified events. For these, a new Yamaha CL5 digital mixing console is helping to keep the venue's commitment to the highest quality audio on the right track.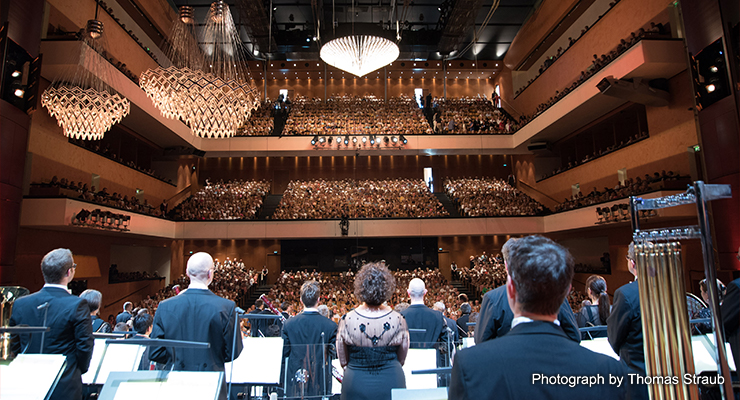 Since Festival Hall Baden-Baden opened in 1998, the former station's neo-Renaissance style ticket hall and waiting rooms have formed a historic entry for visitors into the modern, 2500-capacity auditorium, which was built in the space where the track and platforms used to be.
The auditorium was designed with the highest quality audio in mind, using acoustic values calculated by physicist Karlheinz Müller. The acoustics are perfect for the venue's classical productions, but maintaining those high standards is just as important for events where amplification is needed. This is why a Yamaha CL5 digital console and two Rio1608-D2 I/O racks were chosen for the audio upgrade.
The new system was supplied in July by Karlsruhe-based Rock Shop GmbH.
"For amplified events, it was very important that the sound had to be neutral and uncoloured, to work seamlessly with the high quality acoustics. The familiarity of the Yamaha workflow for visiting engineers was also an advantage," says Rock Shop's Mario Schmidt.
The CL5 also assists with acoustic cues and other audio effects which are required for theatre productions. For presentations and other speech-based events, the onboard Dan Dugan automixing and high quality EQ are further features that make it an excellent solution, along with the flexibility of the Dante audio networking.
"The CL5 is a flexible and very well-appointed digital mixing system, which is intuitive and quick to use," adds Mario. "Most importantly, audiences at these events will enjoy the very high quality sound for which Festival Hall Baden-Baden is renowned. We are very happy to have supplied a mixing solution for amplified events that will serve for many years."