South African distributor provides an easy to use integrated audio, AV, and lighting solution for the Cape Town church
Cape Town, October 2019 – Stage Audio Works' Cape Town office has helped to enhance the services at Die Bron Church and Theatre with new audio, video and lighting solutions throughout its campus. The project called for a campus-wide integrated solution and saw Stage Audio Works partner with Gearworx for the installation.
"Die Bron Church required a complete solution, covering AV, audio and lighting," recalls Jerome Gideon from Stage Audio Works' Cape Town office. "The client wanted the best solution for their budget and to make operation as easy as possible. They also wanted to make sure that no matter where you were seated within the venue, you could hear every spoken word clearly."
To meet this brief, Stage Audio Works designed a wide-reaching solution, drawing on the strengths of many of the brands it represents. Starting with the audio solution in the theatre, the main PA comprises eight d&b audiotechnik 10AL line array cabinets, with a pair of 18S-SUBs and the same number of B22 subwoofers providing low end reinforcement. Delays are in the form of eight d&b E8 cabinets with power for the audio solution from the German manufacturer's 10D and 30D amplifiers. On stage, performers use Sennheiser EW500 wireless microphones, while monitoring is available via Sennheiser EW300 in-ear monitors or dBTechnologies Flexsys FM12 wedges. Completing the audio signal chain is a Yamaha QL5 digital mixing console and Rio3224 stage box.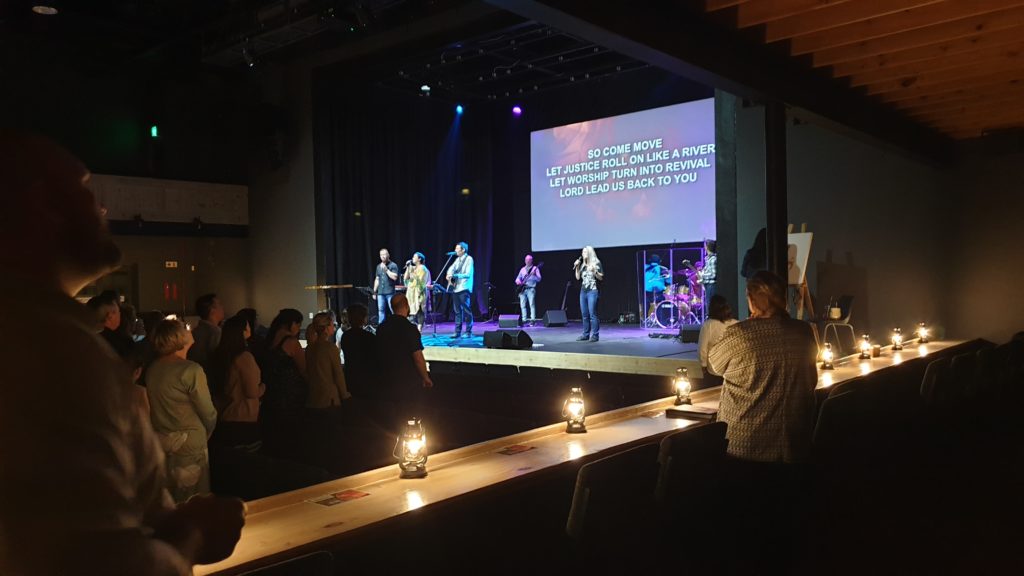 On the lighting side, Stage Audio Works supplied 12 Acme Stage Par MP300z lights, a pair of XA-400 moving heads alongside nine Italian manufactured LDR Profiles to complete the stage lighting look.
The AV portion of the solution covers projection and distribution to all the screens around the church. Stage Audio Works opted for a Christie DHD850_GS projector as the main output, with Atlona 4K/UHD HDBaseT distribution amplifiers and receivers to send the video signal around the facility.
Away from the theatre, the main entrance is covered by five Audac ATEO6 loudspeakers with control from the Belgian manufacturer's Pre220 preamplifier and powered by a CAP224 amplifier.
"The biggest challenge was that the system would need to be easy to operate, as there are multiple users," recalls Gideon. "The site is also used as a multi-purpose venue. It is used for church on Sundays and then theatrical productions, wedding functions and special events on request throughout the week. We offer complete AVL and structural solutions, so we were able to accommodate these needs. We have partnered with the right companies that offer products that can talk to each other and exist within the same ecosystem, making the complete solution 'symbiotic' and easy to operate."
The end result is one that the church is very happy with. "From the beginning of working with Stage Audio Works, their professionalism came through in every contact with them," states Rhona Kieswetter, Senior Leader at Die Bron Church. "Their attention to detail was of a high standard and their prices very competitive. Their constant availability was appreciated, and nothing was too much for them to attend to. We experienced them as very helpful with a great work ethic and aftersales service. We can highly recommend Stage Audio Works."
About Stage Audio Works
Stage Audio Works is a leading international supplier, manufacturer and distributor of complete technology solutions to the live event, houses of worship, commercial, education and industrial sectors with the philosophy of providing only the highest quality, most technologically advanced solutions in order to ensure customer satisfaction and growth in Africa and the United Arab Emirates.
Like us on Facebook: @StageAudioWorks
Follow us on Instagram: @stageaudioworks
Find us on Twitter: @StageAudioWorks
Watch us on YouTube: @StageAudioWorks